How to stay healthy year round
By Diana Handwerker, MSW, CNWC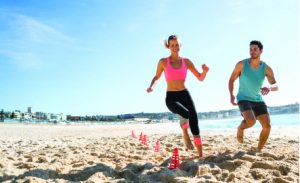 Summer is a great time to build on your health and wellbeing, take a vacation, relax and have fun! It's also a time to pay attention and make positive changes to your daily health practices. Don't ever wait or wonder about a symptom or health concern.
Below are tips to help you stay safe and healthy this summer and all year long
1) Hydrate! Dehydration is a serious health concern — especially during the summer. In 2015, a study published in the American Journal of Public Health found that more than half of individuals aren't getting enough water.
Drink a full class of water before, during and after physical activity to avoid dehydration. For extra flavor, add slices of your favorite fruits such as melon, oranges, berries or even cucumber or mint to your water and refrigerate for two hours.
2) Protect yourself and your family from the sun: wear wide-brimmed hats, always apply
water-resistant sunscreen with at least SPF 15 and reapply every 2 hours. Avoid outdoor activities between noon and 3 p.m. when the sun is at its strongest.
3) Dress for the heat: Wear lightweight, light colored clothing, choose fabrics such as cotton, and wear sunglasses to protect your eyes.
4) Try fish, especially high omega tuna and salmon that have great nutritional benefits including omega-3 fatty acids. Rub a fillet with lemon juice and parsley or rosemary for enhanced flavor.
5) Planning a BBQ? Make a better burger with lean beef or turkey, drain off the excess fat after cooking and avoid making huge patties.  It isn't what you eat necessarily. Remember that a serving of meat is about the size of a deck of cards (3 oz). Add chopped green pepper to your meat or try a veggie burger for a healthier option.Try grilled corn on the cob: leave the husks on, and grill for about 30 minutes over medium flame, rotating occasionally. Remove from grill, let cool for about
5 minutes, remove husks and enjoy!
6) The new potato: Slice white or sweet potatoes into sticks, lightly coat with olive or coconut oil, pepper and paprika and bake on a cookie sheet for 40 minutes at 375 degrees.
7) Beware of 'healthy' smoothies. While smoothies seem like the perfect way to keep cool and get your fruits and vegetables most are made with yogurt, ice cream or other sugary additives.
Try it at home by using a variety of frozen fruit or vegetables, add unsweetened almond milk or whole fruit juices to make a healthy treat.
8) Maintain a consistent exercise plan. Summer exercise doesn't have to stop because of the rising temperatures. Change your exercise plan and take it indoors. Join a gym, take a class, or get a group of friends together for a healthy activity. Get wet.
Start by swimming 10 minutes a day. If swimming laps isn't your thing, join a water aerobics class or create your own aerobic workout… any way to get moving.
9) Summer is the perfect time to take up a new activity. Gardening is a great way to enjoy the outdoors and will actually help you burn some calories! Try a new sport or hobby and involve your friends for a great new way to connect.
10) Summer means an increase in inflammation from the heat. How about a little chocolate pudding to help keep the inflammation at bay? This Chocolate Chia Pudding is packed with fiber, protein, omega-3 fatty acids and several important micronutrients that can help reduce inflammation and can even help keep you stay hydrated.
Chocolate Chia Pudding
Ingredients:
1 tbsp chia seeds
1 cup coconut milk
1 tsp raw cacao
Instructions:
1. Pour coconut milk into a bowl.
2. Mix in chia seeds and cacao
3. Stir for 30 seconds.
4. Refrigerate for 30 minutes
or longer until it gels. Enjoy!
Summer is the time to check in with your health and wellness. If you have any questions or
concerns about your health now is the time to ask the right questions and explore simple ways to feel better and stay healthy.
Inspired by her parents' journey and teachings in holistic wellness, Diana Handwerker, a Masters level Nutritionist and Social Worker, founded Healthy Wholistic in an effort to continue  educating and transforming the way we experience and value our health. "It is a choice, we choose how we treat every symptom or ailment." Their book, "Blinded by Belief" (available soon) tells of the spiritual journey to health and happiness.
For more information on how to transform your health contact Healthy Wholistic at 561-859-0889
or info@healthywl.com.
7301 A West Palmetto Park Road
Suite 304 B, Boca Raton, FL 33433
(561) 409-3594 • www.uci-fl.com