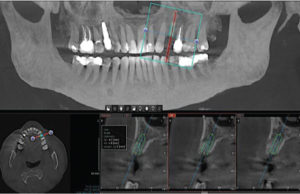 3D Technology has truly changed the way dental surgeons are able to plan and perform procedures. CT scans allow the surgeon to see anatomical structures in a very accurate fashion. In simple terms, having the ability to view the precise location of important areas such as nerves and sinuses prior to surgery can help avoid risky procedures and complications during surgery.
Traditional X-Rays:
Traditional x-rays are an excellent tool to help your dentist determine if you have cavities. Unfortunately, this method of x-ray (including a "panoramic" image that can show your entire mouth at once) is a flat, 2D image. In other words, it does not let you see "inside" the jaw bone in a 3D fashion. Therefore, identifying the location of exact anatomical features is not possible.
3D / CT Scans:
CT scans are completely different than traditional dental x-rays and the provide a drastic difference in the amount of information your surgeon has regarding your anatomy. Let's use an example of a loaf of bread. If we look at an uncut loaf from the side, we truly cannot see where the raisins inside are located. This outside view is similar to what a traditional x-ray would provide. If we were to cut a slice of the loaf and pull it out, we have the ability to identify the exact spot the raisin resides left to right and up and down.
A CT scan allows us to see inside your jawbone in the same fashion as the slice of bread example. Imagine how much information your surgeon can gain by seeing inside your bone to that level of detail. These images are amazing when planning dental jaw surgery, sinus procedures, bone grafting and dental implant placement. As a surgeon, I would always prefer to know the exact location of nerves, sinuses or other important anatomy prior to starting a surgical procedure.
New Technology:
It is true that CT scans can mean more radiation as compared to traditional dental x-rays. One must weigh the benefits the scan offers vs. the radiation being used. An incredible break-through with 3D scanning technology has recently been developed which offers a 5 second CT scan with an ultra-low dose of radiation. Incredibly, this new technology has been shown to use up to 70% less radiation than other similar technology in the marketplace while offering high image quality scans.
Improvements in technology truly allow both the patient and surgeon the best of both worlds. Safety is always paramount and lowering the scan time and dose of radiation to patients is important. Coupling this with the ability of your surgeon to see critical anatomy prior to surgery with high resolution scans truly is a win-win for everyone.
Lee R. Cohen, D.D.S., M.S., M.S., is a Dual Board Certified Periodontal and Dental Implant Surgeon. He is a graduate of Emory University and New York University College of Dentistry.
Dr. Cohen completed his surgical training at the University of Florida / Shands Hospital in Gainesville, Florida. He served as Chief Resident and currently holds a staff appointment as a Clinical Associate Professor in the Department of Periodontics and Dental Implantology. Dr. Cohen lectures, teaches and performs clinical research on topics related to his surgical specialty.
The focus of his interests are conservative approaches to treating gum, bone and tooth loss. He utilizes advanced techniques including the use of the Periolase Dental Laser (LANAP procedure) to help save teeth, dental implants, regenerate supporting bone and treat periodontal disease without the use of traditional surgical procedures. Additionally, Dr. Cohen is certified in Pinhole Gum Rejuvenation, which is a scalpel and suture free procedure to treat gum recession with immediate results.
Dr. Cohen uses in-office, state of the art 3D Green 2 CT imaging which offers Hi Resolution 5 Second Low Dose Scans to develop the least invasive dental implant and bone regeneration treatment options.
Dr. Cohen and his facility are state certified to perform both IV and Oral Sedation procedures. Botox® and Dermal Fillers are also utilized to enhance patients' cosmetic outcomes.
Dr. Cohen formerly served on the Board of Trustees for the American Academy of Periodontology and the Florida Dental Association. He is past president of the Florida Association of Periodontists and the Atlantic Coast District Dental Association. Dr. Cohen is a member of the American College of Maxillofacial Implantology and the American Academy of Facial Esthetics. In addition, he has been awarded Fellowship in the American College of Dentists, International College of Dentists and the Pierre Fauchard Academy.
PALM BEACH CENTER FOR PERIODONTICS & IMPLANT DENTISTRY
www.PBCPERIO.com
561-691-0020