By Dr. Alan J. Bauman, MD, ABHRS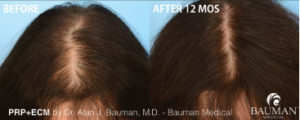 Hair loss may not be a life-threatening medical condition, but that doesn't mean you should leave the fate of your follicles to just any doctor. In years past, men and women were most likely to discuss their hair loss concerns with their primary care physician or their dermatologist, but unfortunately, this common practice didn't always result in a empathic response, much less the best course of action for saving their hair.
One of the reasons for this is that the early signs of progressive hair loss are often so subtle that they are either dismissed, or overlooked entirely. In women especially, who often lose hair diffusely, it is possible that they've already lost 50 percent of hair in a visibly thin area. Then, in addition, if they turn to a dermatologist or plastic surgeon as their 'hair loss doctor,' he or she may be able to offer a diagnosis and insight into possible medical causes, but in most cases they won't have the advanced specialized tools, training, and expertise needed to properly map out and execute an effective hair regrowth treatment plan for the long term.
Here are a few things to consider before choosing a doctor to treat your hair loss.
How Much Do They Know About Hair Loss? – You wouldn't see an ophthalmologist for an earache, or visit a cardiologist for a sprained ankle – so why would you have anyone other than a Hair Restoration Physician treat your hair loss? A Hair Restoration Physician is someone who practices exclusively in the area of medical diagnosis, treatment, and tracking of hair loss and hair regrowth. While the field of dermatology is widely believed to be the specialty to treat all things skin, hair and nails, the reality is that most dermatologists prefer to be only skin experts. Medical doctors who do not specialize in hair restoration may not be up to date on the latest treatment methods and technologies. This can lead to subpar results and, in some cases, treatment complications.
Are They Qualified to Perform a Hair Transplant? – Most patients don't realize that anyone with a medical license is legally allowed to perform a hair transplant. This can incredibly dangerous, many of these professionals don't have the experience or the necessary combination of skill and artistic ability to recreate natural looking hairlines. Just as with other medical fields, hair restoration has credentialing, so patients should ALWAYS look for physicians who are certified in hair restoration by the American Board of Hair Restoration Surgery, accepted members of the International Alliance of Hair Restoration Surgeons, and recommended by the American Hair Loss Association. Due to the limited number of ABHRS-certified Hair Restoration Physicians worldwide, prospective patients should be prepared to travel and consult long-distance. While this may sound like a lot of extra work, just consider the risks of having a transplant performed by an unqualified physician – which can include surgical complications, infections, scarring, poor density, and unnatural-looking results.
Do They Have Advanced Diagnostic Tools? – Hair loss varies significantly from patient to patient. From symptoms and presentation to genetics and medical history, it can be challenging to quantify the extent of a patient's hair loss, but even harder to track its progress over time. Dermatologists and plastic surgeons are often not equipped with the latest diagnostic tools and unable to offer advanced hair loss screenings. For these reasons, it is important to schedule a visit with a board-certified Hair Restoration Physician whenever these initial symptoms are first observed. Your Hair Restoration Physician will evaluate your situation and do a complete exam including a microscopic evaluation of your scalp and take baseline HairCheck trichometry measurements. They may recommend blood tests, biopsies and/or genetic tests that will help determine what treatments are likely to help. Hair restoration physicians also have several tools at their disposal to gauge a person's risk of hair loss. These tools can help detect hair loss in its earliest stages, and in some cases, before it even begins.
Do They Have Access to the Newest Treatments? – Because hair loss isn't a focus in many dermatology or plastic surgery practices, they don't always invest in the most up-to-date treatment options available. In comparison, Hair Restoration Physicians often work closely with medical device manufacturers, healthcare research firms and compounding pharmacies, which gives them early access to new treatment options and medical advances specific to the field well before they become more widely available.
Are They Using Most Effective Protocols/Procedures? – Many medical spas, cosmetic surgeons and dermatologists today offer PRP therapy – but some of these practitioners do not use the sophisticated preparation protocols needed to adequately concentrate and measure the blood platelets, neglect to perform measurements to check progress, or utilize protocols that prolong PRP effects. Minoxidil is often widely used for the treatment of hair loss, but may only work well in about 35 percent of patients, according to medical studies. In order to achieve optimal results, many patients require a prescription for a specially formulated, compounded minoxidil solution (like Formula 82M). And as far as hair transplants are concerned, many doctors and large national clinics still perform the more invasive type of transplant called the "strip" or "linear" harvest technique, instead of the less invasive "follicular-unit extraction" method which has less discomfort, less downtime and leaves absolutely no linear scar.
For more information on the causes and treatments for hair loss, please visit www.baumanmedical.com or call 561-394-0024.

Tips on Finding a Hair Restoration Physician
A Hair Restoration Physician is someone who specializes exclusively in the medical diagnosis, treatment, and tracking of hair loss and hair growth.
Look for full-time hair transplant surgeons who are certified by the American Board of Hair Restoration Surgery (ABHRS) and accepted by the
International Alliance of Hair Restoration Surgeons (IAHRS).
Due to the limited number of full-time, experienced ABHRS-certified Hair Restoration Physicians worldwide, prospective patients should be prepared to travel and-or consult "virtually" via phone, Skype, Facetime, etc.
Before choosing your doctor, visit the clinic, read reviews, ask for before-and-after pictures and most importantly, ask questions about how to achieve your desired results and what should be done to maintain them.
Ask for a referral from your primary care doctor or dermatologist to a full-time Hair Restoration Physician who is fully equipped and trained to diagnose, treat and track your hair loss process and achieve your hair restoration goals.
www.baumanmedical.com or call 561-394-0024