By Kenneth Beer, MD –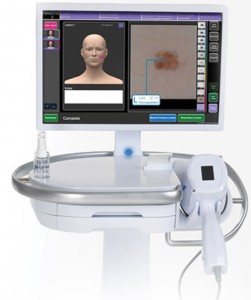 Melanoma is an easily treatable disease with a nearly 100 percent cure rate, assuming you discover it before the cancer metastasizes. According to estimates from the National Institute of Health, some 70,000 Americans will be diagnosed with melanoma this year, though 16 percent will find it after the disease has metastasized and will have just a 15 percent chance of surviving five more years.
Normally, when dermatologists inspect moles for biopsy and further study, we select our specimens based on rigorous guidelines as to the growth's size, shape and color. Most cancerous moles are relatively easy to spot, but many others that may be just starting to turn can be more difficult to diagnose. However, a new device called MelaFind® uses imaging technology adapted from Defense Department Target of Interest Identification Programs to analyze irregular moles, and can even spot melanoma in its early stages. Currently available only in the northeast United States and Germany, the device is likely to change the way skin cancer is treated.
Developed by MelaScience, this revolutionary system objectively and accurately analyzes suspicious moles for early signs of melanoma. The MelaFind® imaging system, made available in October of 2011, is currently available in only a handful of dermatologist's offices across the United States. As a nationally renowned dermatologist and a leader on the cutting edge of new technologies, our practice is one of the first in the United States to offer the MelaFind® technology.
How does it work?
When the dermatologist presses the scanner against a mole, the scanner emits 10 unique wavelengths of light, records those images and then applies a set of proprietary algorithms analyzing the various aspects of the mole and comparing them against a database of 10,000 clinical images of moles that had been biopsied. The system will arrive at a conclusion within a minute and alert the doctor to the mole's likelihood of being cancerous.
The adaptation of military technology to health care isn't just a brilliant pivot; it's also an indication of larger trends going on in the health industry. Algorithms are objective; light beams hitting a mole can analyze the growth patterns and arrangement of skin cells far more effectively than the naked eye. Although MelaFind® might be a new technology, I believe use of machine imaging to assist diagnosis will become more and more frequent in the coming years.
Kenneth Beer, MD, PA 
Kenneth Beer, MD, PA is board certified in both dermatology and dermatopathology, the microscopic study of the skin. He is one of the few cosmetic and surgical dermatologists to be credentialed in both specialties. Dr. Beer completed his residency in dermatology and fellowship in dermatopathology at The University of Chicago. He is a voluntary assistant professor at the University of Miami and a consulting associate in the Department of Medicine at Duke University.
Dr. Beer has authored numerous publications including several scientific articles and chapters in textbooks of Cosmetic Surgery and Dermatology. He is renowned as one of the country's top experts in Botox and has published extensively in cosmetic dermatology journals. By combining his dermatology and dermatopathology expertise, Dr. Beer has become a leader in skin cancer surgery and reconstruction as well as cosmetic dermatology.
For more information on the MelaFind® or to schedule a consultation with Dr. Beer, please call us at 561-655-9055 or visit us on the web at visit www.palmbeachcosmetic.com.