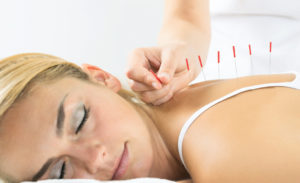 It's hard to believe that it's 2020, but with the New Year in full swing, isn't it time you finally did something about your pain? Are you tired of masking your symptoms with harmful drugs that are never going to treat the root cause of your condition?
Over 115 million people suffer from various types of chronic pain disorders ranging from fibromyalgia, osteoarthritis, neuropathy, back, hip and neck pain to name a few. Whether trauma or degenerative disease has caused your pain, the consensus is usually the same; people want their pain to go away. But how do you know that the options you've been given are right for you?
The World Health Organization (WHO) recognizes acupuncture as an effective treatment of acute and chronic pain. Acupuncture is a safe and natural method of pain management that has no harmful side effects. Pain medication can further damage the internal functions of the body. Acupuncture addresses the root of the problem by opening the meridians or energy pathways that have been blocked by trauma, stress, disease, poor diet, and lifestyle choices.
Low back pain
Neck pain
Herniated disk
Knee pain
Headaches
Nerve pain or damage
Acupuncture
Acupuncture is an ancient form of Traditional Chinese Medicine that dates back over 5,000 years. It is based on the theory that energy (QI) moves through the body using specific pathways (meridians). An imbalance in the flow Qi or energy moving through the meridians may cause a physiological effect in the body over time. Stress, poor eating habits, lack of sleep, hormonal imbalances, and strenuous activity may cause the body to become symptomatic. Symptoms such as, pain, anxiety, depression, fatigue, insomnia, food cravings, irritability, brain fog, indigestion, and heart palpitations may occur if harmony is not restored to the Qi flow of the internal body.
Treatment Description
Acupuncture Physicians use sterile, thin, single use, disposable needles to activate specific points on the body to stimulate a healing function. A slight pinch, tingling, or burning sensation may occur at the site of the needle insertion for a brief moment. A typical acupuncture treatment may last 20-30 minutes. This time allows the body to relax and make internal changes. Acupuncture causes the brain to release endorphins a natural opiate-like effect may occur. The analgesic like effect is very helpful in the treatment of pain. Also, a feeling of euphoria may occur after an acupuncture treatment due to the release of endorphins.
The World Health Organization (WHO) recognizes acupuncture to be effective for more than 35 common illnesses.
These are Just a few Conditions Acupuncture can Benefit:
Pain
Anti-aging
Allergies
Nerve injuries
Digestion
Emotional Issues
Increases Energy
Headaches
Immunity
Addictions
Sleep Disturbances
Weight Management
Women's Health and Hormonal Balance
For over 20 years, Dr. Yanhong Meng has been practicing acupuncture and antiaging. She is a licensed Acupuncture Physician and Doctor of Oriental Medicine. Dr. Meng graduated from Shan Dong Traditional Chinese Medicine University in 1996. In 1996, Dr. Meng began practicing at the Shan Dong Lai Wu Traditional Chinese Medicine Hospital, and for three years worked under the direct guidance of Dr. Gu Dao Xia, the inventor of Acupuncture Point Nutritional Injection Therapy.
Dr. Meng attended Shen Yang Western University from 1999-2001, where she deepened her knowledge of Traditional Chinese Medicine (TCM) Theory and Practical application in conjunction with Western Medicine. In 2002, Dr. Meng completed a rigorous clinical rotation at the Beijing Traditional Chinese Medicine University.
Also, from 2002-2004, Dr. Meng operated a TCM Clinic in Dublin, Ireland. After moving to the United States, Dr. Meng graduated with honors from The Atlantic Institute of Oriental Medicine in 2007, where she received her Masters in Oriental Medicine. Since 2007 she has owned and operated Meng's Acupuncture Medical Center in Palm Beach Gardens, Florida.
If you want to alleviate pain,
look younger, and increase your energy and health,
please call
Meng's Acupuncture
Medical Center
today at
(561) 656-0717
Gardens Cosmetic Surgery Center Bldg.
4060 PGA Boulevard, Suite 202
Palm Beach Gardens, Florida 33410
Phone: (561)656-0717
Toll-Free: (877)307-0005