By Lee R. Cohen, D.D.S., M.S., M.S. –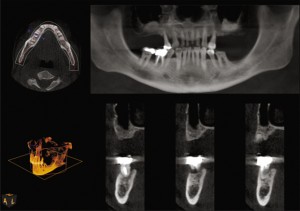 One of the most common questions I am asked when a patient is being evaluated to replace missing teeth is "am I a candidate for dental implants?"  This is a very good question to ask your surgeon when considering alternatives to replace decayed, broken or missing teeth.  The good news regarding dental implant therapy is that in many situations, the procedures utilized to place implants can be fairly non-invasive and the outcome can help patients regain good chewing function.
There are two sides of the coin that must be considered when evaluating a patient for dental implants. The first concern must always be the health of the patient.  Additionally, a thorough evaluation of the bone present in the areas being considered for treatment are necessary to ensure the procedure can be performed safely and with a high level of success.
Medical Evaluation:
Many of my patients who are considering dental implant therapy are above the age of 60.  In fact, a significant number of these patients wishing to improve their ability to chew range between 70-85 years of age.  Along with this age range typically come a considerable number of medical issues and their corresponding medications.  It is truly very rare that these conditions prohibit us from safely using dental implants as a way to help patients regain their teeth for proper chewing and a beautiful smile.  If there are any significant concerns, your primary care physician or specialist may be included in the evaluation process to be sure the treatment can be provided safely.
A more common concern related to a patient's medical history is not the safety of undergoing the procedure, but the success of the procedure.  Smoking, for example, has been shown to have a significant impact on the success of dental implant therapy (with some studies demonstrating a success rate dropping from the 90th to the 60th percentile).  Issues such as uncontrolled diabetes also have been shown to impact results.  It is important to realize that many of the issues impactingimplant success can be addressed to help increase the likelihood of the treatment working.
Dental Evaluation:
The second most often question I receive when evaluating a patient for dental implants is "do I have enough bone?" Today, in almost every occasion, we can proceed with dental implant therapy.  For some patients, procedures need to be performed in advance of implant treatment to enhance the amount of bone present.
Dental x-rays and panoramic views (a global picture of the entire mouth) have been traditionally used, along with a clinical evaluation of the mouth, to determine if sufficient bone is present.  Certain areas of the mouth contain anatomic structures such as nerves or sinuses that need to be identified prior to treatment planning dental implants. In addition, the bone thickness often needs to be evaluated.
Determining the exact locations of structures or thickness of bone can be challenging with traditional x-rays.  The use of CT scans has aided in evaluating the areas being considered in a 3-Dimensional way.  A simple example of comparing traditional x-rays to a CT scan is looking at a cinnamon swirl loaf of bread.  The traditional films reveal the loaf as if you put it down on the counter and looked at it from the side.  This view does not allow you to look inside and see where the swirls are or the bread's thickness.  A CT scan view is as if you cut a slice of the bread, pulled it out and evaluated what is inside the slice (you can locate exactly where the swirls are).  We prefer this view as it provides very accurate information and aids in our treatment planning process.  These scans can now be taken in the dental office without the need to travel to an MRI center or a hospital and typically cost little more than traditional x-rays.
Conclusion:
Once a patient's medical history has been taken into account, a complete assessment of your bone and anatomy will help determine if you are a good candidate for dental implants.  Just because someone has been told they "do not have enough bone" does not rule out their ability to have implant treatment.  There are a variety of procedures (many of them simple) that can help enhance bone that were not available in the past.  The use of 3-Dimensional technology is often the best way to determine where ideal bone is located and what procedures may be needed to bolster an area for implant treatment.
Lee R. Cohen, D.D.S., M.S., M.S.
Lee R. Cohen, D.D.S., M.S., M.S., is a Dual Board Certified Periodontal and Dental Implant Surgeon.  He is a graduate of Emory University and New York University College of Dentistry.
Dr. Cohen completed his surgical training at the University of Florida / Shands Hospital in Gainesville, Florida.  He served as Chief Resident and currently holds a staff appointment as a Clinical Associate Professor in the Department of Periodontics and Dental Implantology.  Dr. Cohen lectures, teaches and performs clinical research on topics related to his surgical specialty.
The focus of his interests are conservative approaches to treating gum, bone and tooth loss.  He utilizes advanced techniques including the use of the Periolase Dental Laser (LANAP procedure) to help save teeth and treat periodontal disease without the use of traditional surgical procedures.  Additionally, he uses in-office, state of the art 3D CT imaging to develop the least invasive dental implant and bone regeneration treatment options.  Dr. Cohen and his facility are state certified to perform both IV and Oral Sedation procedures.
Dr. Cohen currently serves on the Board of Trustees for the American Academy of Periodontology and the Florida Dental Association.  He is past president of the Florida Association of Periodontists and the Atlantic Coast District Dental Association.  In addition, Dr. Cohen has been awarded Fellowship in the American College of Dentists, International College of Dentists and the Pierre Fauchard Academy.
Lee R. Cohen, D.D.S., M.S., M.S.
4520 Donald Ross Road, Suite 110
Palm Beach Gardens, FL 33418
Phone: 561-691-0020
www.pbcperio.com