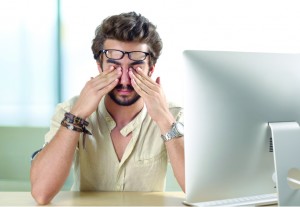 Do you suffer from any of the following:
Migraines/Headache, dizziness, anxiety, panic attacks – especially when driving, neck pain, motion sickness, clumsiness, difficulty reading, nausea, light sensitivity, blurred/shadowed/doubled vision?
Have you been to numerous doctors ( ENT, Neurologist, Primary Care, etc.) only to be told that there is nothing wrong with you?
Have you been put on many medications to help your symptoms but nothing seems to work?
I bet you never thought your eyes could be the cause of your suffering!
When you have a binocular vision disorder (BVD), the muscles surrounding your eyes are not perfectly in alignment. There can be a horizontal misalignment, a vertical misalignment called vertical heterophoria or both. There are six muscles that surround each eye and that control the movements of the eyes. Those muscles need to be perfectly aligned to allow vision that is clear, single and in focus. When the muscles are misaligned the brain works very hard to try and keep them stable. Symptoms of BVD occur when the body struggles ineffectively to realign the muscles.
Did you know that even a slight misalignment in the eyes can cause any of the symptoms mentioned above?
Did you know that this type of eye misalignment is not screened for or picked up on routine
eye exams?
I am the only eye doctor in the state of Florida that is a certified Neuro Visual specialist and who has trained under the care of the country's foremost expert, Dr. Debra L. Feinberg. Dr. Feinberg has been practicing Neuro Visual Optometry for over 20 years and has patented her techniques and the equipment that she uses to diagnose and treat BVD. Patients have traveled from all over the world to be evaluated and treated by Dr. Feinberg. In an effort to bring this groundbreaking BVD treatment to more patients, and to make it more convenient for patients to receive treatment, approximately three years ago Dr. Feinberg began training other doctors to become Neuro Visual specialists. I am only the eighth doctor in the country to have been trained in this highly specialized field under Dr. Feinberg.
I am still amazed at how treatment for BVD helps patients the way it does. The beauty of this treatment is that your glasses become your medicine. Most of my patients are able to begin feeling better and are able to start reducing their medications for anxiety and other symptoms soon after they get their glasses.
The feeling of helping a patient get their life back never gets old. I often receive hugs and elicit tears from my patients as they realize the life-changing treatment they have received. I have had patients who haven't been behind the wheel of a car in years tell me that they now have the confidence to start driving again.
One patient told me that he got on an airplane for the first time in three years, after suffering from severe dizziness that prevented him from flying. Hearing success stories like that make this type of work so gratifying.
So how do I actually help
patients with BVD?
Using the highly specialized training received from Dr. Feinberg, I perform a unique evaluation that focuses on the muscles of the eyes. This completely non-invasive evaluation consists of the use of special lenses and lights to see which muscles are not in alignment. I will then use prism lenses in a pair of glasses to realign the patient's eye muscles. Prisms are special lenses that move images to where the eyes' natural position are. The use of prisms allows the eyes to relax while the glasses do all of the hard work. For those who might be concerned about how eyeglasses with prism lenses will make them look, rest assured that no one can tell the difference between standard eyeglass lenses and the prism lenses that I prescribe.
Patients have traveled great distances for me to examine and treat them. These patients are willing to try anything to feel better. They have been told that there is nothing wrong with them or that it is all in their head, when actually there is a medical diagnosis for what they have been feeling. I feel very blessed to be able to help these patients. It is the best feeling in the world!
To find out more about Binocular Vision Disorders or to see if you would be a good candidate for a Neuro Visual evaluation you can visit our website www.iseevisioncare.com.
Dr. Erin Sonneberg is the founder and owner of iSee VisionCare located in Boynton Beach, Florida. If you would like to speak to Dr. Sonneberg about your symptoms, please call the office at 561-733-9008.
iSee VisionCare
6651 Woolbright Rd, Suite 112, Boynton Beach, FL 33437
(561)-733-9008
www.iseevisioncare.com