By Lee R. Cohen, D.D.S., M.S., M.S.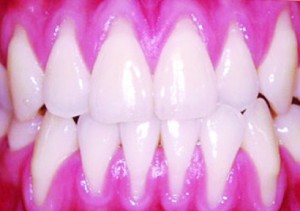 There are a great number of reasons why teeth can look longer as we age. Ultimately, the supporting gum and bone around the teeth can be lost exposing more of the tooth structure.  Gum and bone loss can happen at a slow continuous rate or occur very quickly. The cause of this loss can be attributed to a variety of reasons, one of which is called gum recession.
What is Gum Recession:
Gum recession is the progressive loss of gum tissue covering the teeth and jaw bone. Our teeth are held in place by this jaw bone. We have 2 main types of gum tissue in our mouths: Thick (like the roof of the mouth) and Thin (like the inside of our cheek). The thick tissue is protective and can help prevent the tissue from receding. Thicker tissue tends to "stand its ground". Thinner tissue does not have this protective function. We typically have a small band of thick tissue present at the top of the gums (the part where the tooth comes out).
As the gums start to recede, the first tissue we lose is this thick part. Ultimately, the thin tissue is all that is left and it goes away even faster than the thicker type. When the gum tissue recedes it no longer covers the underlying bone. In response, our bone resorbs (the bone will not stay exposed without the tissue covering it). It is this loss of gum and bone tissue that leads to the teeth looking "longer".
This recession can occur due to a number of factors.In many cases there may be a genetic component (another reason to blame our parents). In addition, things such as over aggressive tooth brushing, braces, smoking and other habits, along with excessive biting forces can lead to this problem.
What Can Happen As A Result:
Beyond the often increased sensitivity and unattractive appearance of longer looking teeth, there are a number of significant issues that can occur due to the loss of gum tissue and bone protecting the teeth. If the supporting bone resorbs, ultimately the teeth can become mobile and be lost. In addition, the roots do not have enamel (the hard coating that the crown portion of the tooth has to protect from cavities) and may be more susceptible to cavities. Root decay can progress rapidly and ultimately penetrate the nerve requiring root canal therapy.
Treatment Options And Goals:
Clearly the "longer" looking teeth are just a symptom of a more involved problem. There are a variety of ways to treat the appearance, such as having crowns or veneers placed. These are excellent options, but do not address the possible gum and bone problem and will not prevent it from getting worse if there is indeed an issue.
Ultimately, the unrecognized goal may be to slow the progression of the bone and gum loss. The use of tissue grafting procedures can help achieve this goal. Developing a zone of thick tissue may help prevent further recession. It is important to recognize that this is different than returning the gum tissue to its initial location. In certain situations, we can bring the tissue back to a more desired location, but this is based on anatomical considerations.
Realizing that longer looking teeth may be a sign of other problems to come, is an important first step in patients helping to try and save their teeth. In many cases, the recession can be slowed or even corrected. A complete periodontal evaluation and current x-rays are needed to determine what has occurred in each individual case and then an appropriate treatment plan can be developed.
Lee R. Cohen, D.D.S., M.S., M.S.
Lee R. Cohen, D.D.S., M.S., M.S., is a Dual Board Certified Periodontal and Dental Implant Surgeon.  He is a graduate of Emory University and New York University College of Dentistry.
Dr. Cohen completed his surgical training at the University of Florida / Shands Hospital in Gainesville, Florida.  He served as Chief Resident and currently holds a staff appointment as a Clinical Associate Professor in the Department of Periodontics and Dental Implantology.  Dr. Cohen lectures, teaches and performs clinical research on topics related to his surgical specialty.
The focus of his interests are conservative approaches to treating gum, bone and tooth loss.  He utilizes advanced techniques including the use of the Periolase Dental Laser (LANAP procedure) to help save teeth and treat periodontal disease without the use of traditional surgical procedures.  Additionally, he uses
in-office, state of the art 3D CT imaging to develop the least invasive dental implant and bone regeneration treatment options.  Dr. Cohen and his facility are state certified to perform both IV and Oral Sedation procedures.
Dr. Cohen formerly served on the Board of Trustees for the American Academy of Periodontology and the Florida Dental Association.  He is past president of the Florida Association of Periodontists and the Atlantic Coast District Dental Association.  In addition, Dr. Cohen has been awarded Fellowship in the American College of Dentists, International College of Dentists and the Pierre Fauchard Academy.
Lee R. Cohen, D.D.S., M.S., M.S.
4520 Donald Ross Road, Suite 110
Palm Beach Gardens, FL 33418
Phone: 561-691-0020
www.pbcperio.com