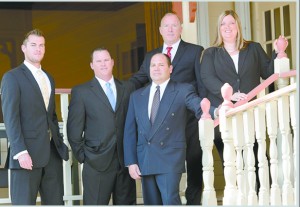 Do you know the difference between an Advisor and a Broker?  Many investors have Financial Advisors, but most don't know the difference between working with one who acts as a broker versus one who acts as an Investment Advisor.  Broker's sell products to their clients and are paid a commission.  Advisor's manage client assets and get paid a fee based on assets under management.  I believe there is an inherent flaw in the broker model.
The flaw lies in the fact that the broker is compensated for selling products to their clients.  They are not compensated unless there is a transaction.  Advisors do not sell anything; they manage client assets based on the goals and objectives of each client's unique financial situation.  There is no conflict of interest in the RIA or Advisor model, because the only way an Advisor is compensated is by doing a good job managing client assets.  I used to work as a broker, and in my opinion that model is broken.  For instance,  how do you know the product you are buying from your broker is right for you or is it being sold to you because of its commission structure?  For instance, what if there are two very similar annuity products available to be sold by your broker, but one pays a higher commission than the other one.  Which product do you think the broker is more likely to convince you to buy?  I would be willing to bet that most of the time the broker will try and sell you the one that pays a higher commission.  That is what makes the broker model a flawed system.
There is an inherent conflict of interest, because this is how the broker gets paid.  The RIA or Advisor model is conflict free.  Advisors are paid to manage assets.  As the asset size grows, the advisor is paid more because of the direct benefit generated for the client.  Investment selection is made purely on how well each investment will perform based on significant research.  Whereas, brokers are paid on how much commission they generate.  They are given bonuses and fancy titles based on commission production, not on the performance of the client accounts.  There has been a shift toward the RIA model over the last 10 years due to the  inherent flaws in the broker model.
I can envision over the next 10 years
we will continue to see this shift toward the RIA model because of one simple fact.  There is no conflict of interest in the RIA model.  RIA's are not looking for the product of the day to sell their client.
They are looking for the investment that will help the client achieve their financial goals.  Before hiring any broker or advisor, do your research.  You can go to www.finra.org and type in your broker or advisors name and get a complete history on his or her background in the industry.  These reports will also tell you if your advisor has had any disclosure events or complaints.  As always, the opinions expressed in this article are that of the authors.  Please do your research and make an educated decision before engaging in any financial transaction.
If you would like to learn more about this topic or have your portfolio reviewed, please contact Jay Chapman, CFP® at Fogel Capital Management 772-223-9686 or email Jay@fogelcapital.com.