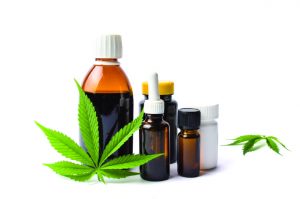 Florida Medical Marijuana Health Centers is known for their outstanding outcomes and care for their patients utilizing medical marijuana, but few people are aware, that their cutting-edge, integrative medicine practice also offers "non-marijuana" alternatives for patients wanting to treat various disorders. CBD oil is a leading therapy for treating symptoms and disease states without TCH and without a marijuana card.
There is a multitude of information online and on news outlets and documentaries touting the benefits of CBD oil (cannabidiol). So, how can you be sure of its health benefits? Let's first detail the product a little further to put ease to any questions and concerns.
CBD oil is known to show beneficial results for seizures, neurodegenerative disorders, cancer, autoimmune diseases and other chronic ailments. What is CBD oil? Well, most of us have heard about the health advantages of Hemp or Marijuana, but the primary difference with CBD is that it has none of the psychoactive factors or intoxicating effects of cannabis. The THC level (the chemical that makes one high) is removed through an extraction process. In most cases CBD oil is primarily free of the mood altering components, this is especially the case with the Organic CBD oil used in Florida Medical Marijuana's Health Center's products.
Our brain and nerve cells have cannabinoid receptors, so our bodies naturally react to CBD oil (cannabinoids) through intermingling directly with our cells. Our natural endocannabinoid system works synergistically with CBD, creating a multitude of beneficial reactions in the body.
Recent studies have shown multiple health benefits of CBD:
• Relieves pain
• Anti-inflammatory response
• Lessens nausea
• Reduces anxiety
• Reduces cognitive impairment
• Anti-tumor factors
• Cancer cell death
• Cancer cell growth inhibitor
• Reduces Seizures/anticonvulsant
• Anti-psychotic
• Improves sleep
• Fights viral infections
• Relaxes muscles
• Anti-muscle spasm mechanisms
• Reduces beta-amyloid plaque
• Promotes pet health and reduces anxiety
• Reduces skin inflammation
• Brightens and tightens skin
Patients with seizures, cancer, chronic pain, and anxiety, just to name a few, are reporting incredible healing through CBD oil. When they've finally had enough of western medicine, and it's ability to ONLY treat their "symptoms" and not their disorder, that's when patients are grasping onto alternative treatment options. For those that have found help through CBD, their words are profoundly clear—CBD oil works.
Recent studies have shown multiple health benefits of CBD in regards to fighting various types of cancer cells. It's important to point out that the U.S. Food and Drug Administration has not approved cannabis treatment for cancer. However, as more studies show promising outcomes, their stance may change in the near future.
Florida Medical Marijuana has numerous products for you to choose from for many of your health and wellness needs. Because CBD is so highly publicized and at the forefront of media outlets and health debates, it's important to understand the CBD oil difference. Not all CBD oil is the same. It's critical to get the most efficacious tinctures of CBD as possible, and Florida Medical Marijuana Health Centers specifically distributes the highest quality CBD oil from an extensively regulated, reputable organization.
To get help today, please call (561) 223-0743 to schedule your consultation and experience the healing effects of CBD and medical marijuana.
Florida Medical Marijuana Health Centers
700 West Boynton Beach Blvd
Boynton Beach FL 33426
Flamjcenter.com
561-223-0743
Flamjcenter@gmail.com
https://www.facebook.com/flamjcenter/