Leslie H Perla MD FACP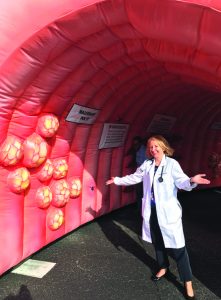 What is colorectal cancer?
Colorectal cancer is a malignancy that can affect any portion of the lower gastrointestinal tract referred to as the colon and rectum. It is the second leading cause of cancer related death in the United States. About ninety three percent of the cases of colorectal cancer are diagnosed in individuals over the age of fifty. The lifetime risk of colon cancer is similar in men and women but the age adjusted mortality is higher in men. The overall five year survival is reported to be sixty percent. About eighty percent of the affected individuals have sporadic disease and remaining twenty percent are inherited. The good news is that colorectal cancer screening has been demonstrated to decrease the incidence of colorectal cancer as well as the mortality associated with it through early detection and primary prevention. Early detection and removal of polyps which may be precursors to colon cancer have been shown to save lives.
Are there any warning signs?
The clinical presentation of colorectal cancer may include alteration in bowel habits such as unexplained diarrhea or constipation or change in stool caliber ( such as pencil thin stools). Rectal bleeding and abdominal pain may be other manifestations of the disease. Anemia and unintentional weight loss may occur as well. Colorectal cancer may even mimic other diseases such as diverticulitis. Individuals who experience any of these symptoms should seek medical care immediately.
Who is at risk for colorectal cancer?
African Americans have the highest reported incidence and mortality from colorectal cancer. Family history of colon cancer, advanced age, familial adenomatous polyposis syndrome, Lynch Syndrome, having had a ureterosigmoidostomy, history of Peutz-Jeghers, juvenile polyposis and serrated polyposis and MUTYH- associated polyposis are all risk factors for developing colorectal cancer. Individuals who have had prior history of colonic adenomas/ cancer as well as prior history of pelvic irradiation are at increased risk. A history of uterine/ovarian cancer at age less than fifty also increases the risk for developing colorectal cancer. Patient's with long standing history of inflammatory bowel disease such as ulcerative colitis and Crohn's disease are at an elevated risk for developing colorectal cancer as well. Additional moderate risk factors include a prior history of breast cancer as well as having the mutation of the APC gene in patients of Ashkenazi Jewish
descent.
Do I need to get screened if I do not have any symptoms?
The key to screening is to not wait until the warning signs appear. The American Cancer Society and the US Multi-Society Task Force on Colorectal Cancer advocate initiating colorectal cancer screening at age fifty for average risk individuals (ie those patients who do not exhibit the warning signs or do not have the risk factors previously described). Screening modalities include:
Testing the stool for blood: a) Fecal occult blood testing (FOBT)- guiac based with high test sensitivity) performed yearly or b) Fecal immunochemical testing (FIT) yearly or Colonoscopy every 10 years
(This is a tube with a light that may be used to inspect the entire colon and potentially remove polyps and biopsy abnormal appearing tissue if found at the time of the study) or Flexible sigmoidoscopy every five years.( This is a shorter tube with a light which may be used to inspect a limited portion of the colon.) or Double Contrast Enema every five years(This is a type of X- ray during which time barium is injected into the rectum to visualize the colon) or Computed tomographic colonography every 5 years( This is a special type of CT scan utilized to visualize the colon) or Stool DNA testing-interval is uncertain.
The American College of Gastroenterology recommends that African Americans initiate colorectal cancer screening at age forty-five.
When should I start my screening if I have a family history of colorectal cancer?
The American Cancer Society and US Multi-Society Task Force on Colorectal Cancer advocate that individuals with a first degree relative (parent, child, sibling) with colorectal cancer or with adenomatous polyps diagnosed younger than age sixty or who have two first degree relatives diagnosed with colorectal cancer at any age have colonoscopies every five years starting at age forty or ten years younger than the earliest diagnosis in their family, whichever is first. Individuals with a first degree relative with colorectal cancer or adenoma diagnosed at age sixty or older or two second degree relatives with colorectal cancer should initiate colorectal cancer screening with average risk options beginning at age forty. Patients with a family history of familial adenomatous polyposis syndrome should receive genetic counseling. Genetic testing should begin at ages ten to twelve. Patients who are gene carriers should be offered flexible sigmoidoscopy every twelve months beginning at puberty to assess whether they are expressing the gene. If polyposis is noted, then consideration should be given to proceeding with colectomy. Patients with a family history of colorectal cancer in multiple family members across several generations (particularly if the malignancies occurred at young ages) should be offered genetic counseling and considered for genetic testing to assess for hereditary nonpolyposis colorectal cancer. If the genetic test cannot be performed, then these patients should be offered colonoscopy every 1-2 years beginning at age twenty to twenty five or two to five years younger than the youngest age at which the diagnosis of colorectal cancer was made, provided that the diagnosis was made prior to age twenty five. Patients with a long standing history of extensive inflammatory bowel disease are at increased risk for colorectal cancer. Colonoscopic surveillance to assess for dysplasia which are precancerous cells, should be performed every one to two years beginning after eight to ten years of disease duration in patients with pancolitis and after fifteen years in patient with left sided colitis.
Is there anything that I can do to decrease my risk for developing colorectal cancer?
Diets that are high in vegetables and fruits have been shown to confer a moderate protective benefit ( RR less than 0.6). Physical exercise, Cox 2 inhibitors , folate and high calcium intake have been demonstrated to provide a modest protective benefit (RR 0.9-0.6). Moderate risk factors for colorectal cancer that are potentially modifiable include history of smoking, alcohol consumption, obesity, and a diet higher in fats, red meats and calories. Colorectal cancer screening helps save lives. Unfortunately, it is still underutilized. Increased public awareness and education regarding the importance of colorectal cancer screening in addition to more equitable patient access are critical factors in achieving optimal patient utilization.
Dr. Leslie Perla, MD is a gastroenterologist in Wellington, Florida. She is currently licensed to practice medicine in Florida, Connecticut, and New York. She is affiliated with Wellington Regional Medical Center and Palms West Hospital.
Education & Training:
Yale-New Haven Hospital Fellowship
North Shore-Long Island
Jewish Health System Residency
Albany Medical College Medical School
Certifications & Licensure
FL State Medical License 2007 – 2017
CT State Medical License 1993 – 2017
NY State Medical License 1991 – 2016
American Board of Internal Medicine
Gastroenterology
Call Gastro Health at 877.400.4260 to schedule your screening.