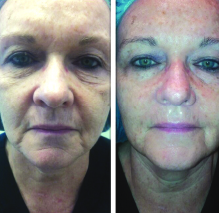 The future of the facial is here! CooLifting is a simple, fast and effective treatment that dramatically reduces wrinkles and rejuvenates treated areas in just 5 minutes. CooLifting is designed to treat facial wrinkles, in both the expression zones and the gravitational zones: eyes outline, forehead, frown, cheeks and lips' zone.
The reduction of wrinkles has been the cornerstone of aesthetics for many years. Until now, treatments combined long sessions with little result or invasive treatments met with marginal changes. CooLifting has changed the rules of the game offering a simple, fast and effective treatment that dramatically decreases the appearance of wrinkles, activates collagen production and is completely non-invasive.
The process in simple, CooLifting is a new facial that combines a controlled spray of carbon dioxide and a blend of hyaluronic acid and botanicals to generate beautiful results with no downtime, no injections, and no pain.
FREQUENTLY ASKED QUESTIONS
How long will it take to see results?
There is an immediate luminosity to the skin. You will also notice a lifting/tightening effect within
12-24 hours of the facial. Clients who sign up for a package of four facials, followed by monthly follow-ups, will see substantial improvement over time.
Is there any maintenance required after a treatment?
Post-treatment, you can return to your regular skin care regimen, with a good moisturizer followed by a mineral sunscreen. These guidelines also apply if you get CooLifting "maintenance" facials.
Can people with sensitive skin be treated with CooLifting?
Yes. CooLifting can be used on all skin types or degrees of pigmentation.
Is it ok to use CooLifting after microneedling?
CooLifting can be used in conjunction with microneedling, chemical peels, microdermabrasion, and other procedures to reduce the redness and inflammation caused by these procedures.
Is there any downtime after a treatment?
There is NO downtime after CooLifting. In fact, it's a perfect "Red Carpet" facial before a special event like a black tie dinner, wedding, or class
reunion.
Palm Beach Complexions RX
Teresa Dulong Owner/Medical Esthetician
318 Vallette Way
West Palm Beach, FL 33401
561-305-5353
www.palmbeachcomplexionsrx.com
Five minute facial that leaves skin looking and feeling tighter and firmer
Only system that combines a proprietary HA serum and CO2 spray
Works as a stand alone facial or can be combined with other treatments for great results
In the comfortable, private and relaxed environment at Palm Beach Complexions Rx, we guarantee you the visible difference in skin health and restoration.
By combining both beauty and science, we can help our clients restore a beautiful complexion while enhancing each individual's personal appearance.
We combine personalized aesthetic services with the credibility of Teresa Dulong. She is a highly experienced licensed medical esthetician with over 25 years of experience. She will provide you with a wide range of medical aesthetics and beauty options including skin care services and products.
We look forward to helping you look beautiful, feel beautiful, and rediscover the natural youthful look.
-Teresa