By Dr. Kristie DeBlasio, Advanced Mental Health Care –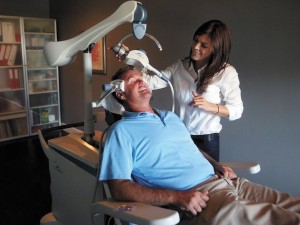 According to the National Institute of Mental Health, it has been projected that 1 in 4 Americans (approximately 26%) aged 18 and older have a mental disorder. These disorders can affect anyone and can cause impairment in functioning in several areas. Without proper treatment, the effects of mental illness can include unemployment, inability to make or maintain relationships, substance abuse, disability, or even suicide.
The World Health Organization has even estimated that Major Depressive Disorder will be the leading cause of disability by 2020 for women and children.
In order to minimize the impact of mental illness, early detection, diagnosis, and treatment are critical. Current treatment interventions include medication and psychotherapy, as well as various brain stimulation treatments. Unfortunately, it is estimated that up to 40% of patients do not receive benefit from traditional forms of treatment (i.e., psychotherapy, medication). Thus, patients who have treatment-resistant mental illness need a safe and effective option to achieve symptom improvement and improve quality of life.
A new type of treatment, transcranial magnetic stimulation (TMS), has shown to be a safe and effective alternative treatment for patients suffering from various psychological and medical conditions. It is the least invasive of the brain stimulation treatments, as it doesn't require surgery or sedation, as does occur during electroconvulsive therapy (ECT) or vagus nerve stimulation (VNS). TMS uses pulsed magnetic fields to activate cells in the brain, which then leads to symptom improvement. Patients remain awake and alert throughout treatment and there is no need for post-treatment recovery. Common side effects can include temporary headache and scalp discomfort at the treatment location.
The first TMS device to receive FDA clearance was the Neurostar TMS Therapy System. This clearance was based on its safety and effectiveness with patients suffering from major depressive disorder. Our own clinical research has shown a 60-78% remission rate for depressive symptoms when used with patients at one of our outpatient facilities (DeBlasio & Tendler, 2012). Currently, the Neurostar device is being used to treat other disorders and illnesses, including Post-Traumatic Stress Disorder (PTSD), pain, migraine, and Bipolar Disorder, among others, and also has been shown to be efficacious in studies.
Another system, the Brainsway Deep TMS device, just recently received FDA approval for patients suffering from depression who have failed to respond to antidepressant medications. This device received similar approval in Europe three years ago. Current trials for the dTMS system include Alzheimer's disease, ADHD, Addictions, Tourette's Disorder, Multiple Sclerosis, Stroke, Smoking Cessation, Parkinson's Disease, and Obsessive Compulsive Disorder. Our practice is currently accepting patients into the dTMS Clinical Trial for patients suffering from Bipolar Disorder.
amhc | (561) 333-8884 | www.advancedmentalhealth.com