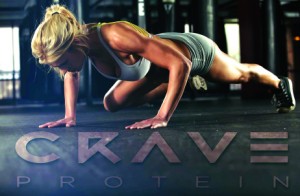 CHICAGO, IL – July 27, 2015 – Knowing what the body truly hungers for, a Chicago-based fitness trainer has come up with the perfect healthy solution. Crave Protein (www.craveprotein.com) is the first real chicken protein (RCP) in supplement form. Derived from whole food and made from 100% USDA-inspected chicken, Crave is free from chemicals and highly processed isolates.
Interested in health and wellness his entire life, creator David Crooch first started with the idea of a chicken-based protein powder back in May of 2011. "As a personal trainer, I saw the need for a convenient source of real protein for active people like myself," said Crooch. He put his creative thoughts into motion, and by June 2015, Crave Protein became a reality.
Crave Protein is not a broth or stock, but a protein supplement that mixes easily with water. Similar to whey and soy protein, Crave conveniently provides your body with the nutrition it needs to build muscle and help maintain a strong physique. "What makes Crave Protein so unique is that it comes from the actual food source. It's like eating a piece of chicken without all the preparation," said Crooch.
Crave Protein comes in two flavors: Chicken Soup (24 g. protein) and Fruit Punch (22 g. protein).
According to the Institute of Medicine's reference to complete protein, Crave Protein RCP has a superior amino acid profile compared to whey or soy powders currently on the market. Crave is also free of common allergens, contains a complete amino acid profile, supports healthy muscles and comes in a convenient, ready-to-eat powder form.
David Crooch is also the founder of Osteobroth, a nourishing chicken bone broth which is also sold in a convenient powdered form. Each 13 gram serving of Osteobroth Premium Bone Broth contains 12 grams of protein and only 50 calories, making it an efficient source of complete protein.
Both Crave Protein and Osteobroth are FDA approved, processed in a USDA-inspected facility and are manufactured in the United States. For more information or to place an order, please visit
www.craveprotein.com or www.osteobroth.com.
Media contact:
CassandraCardenas – TransMedia Group –
(561) 750-9800, ext. 2300
cassandra@transmediagroup.com