By Dr. Bonnie Marting, DNP, ARNP –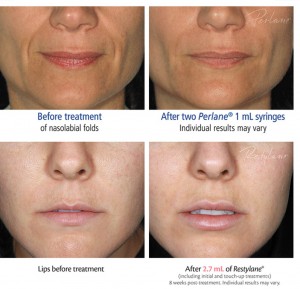 This ratio is seen everywhere; from the tail of a seahorse, the spiral of a snail, to every kind of flower bloom, and the spiraling wind-blown clouds of a hurricane visualized from the planes flying above – it is present. Because it is present everywhere, it is considered the "Divine Ratio", with the feeling that only a higher being could have produced this amazingly congruent yet beautiful relation of design. That is why it has been utilized in art and in great architecture. The great cosmetic injectors use this formula to help their patients with their improvements. Attractive or pleasing face proportions come close to a certain mathematical ratio, termed by several other names: the Golden Section; the Golden Ratio; and Phi, to name a few.  There is a number to put to this ration: 1 to 1.618. It has nothing to do with origins; the proportions are there in every race.
HOW CAN FACIAL FILLERS HELP CREATE THIS "PHI"?
Fillers such as Restylane® and Perlane® and neuromodulators such as Dysport® or BOTOX® Cosmetic that can be strategically combined to minimize or enhance areas that lead one closer to the desired proportions. An experienced "eye" is required to properly assess what is needed and where.
HOW DOES THIS NON-SURGICAL APPROACH WORK?
Most everyone's facial features require slight "tweaking". Slight means that we have a variety of methods today to bring those ratios closer to the supreme without much effort or discomfort. The fillers and neuromodulators are used to alter the slight disproportions, or those proportions that have changed with time. Often this involves the lateral cheeks (not directly in front), the jowl, chin, or temples. Perlane® restores the youthful projections that were experienced, or in some cases missed, to the youthful presentation of years ago. When it comes to lips, Restylane®, the only product on the market approved for lips at this time, can restore the 1 to 1.618, or more simply, the 40 to 60 ratio (40% top, 60% bottom) that has been proved in study after study (by regular folks like us) that it is more aesthetically pleasing. All of this takes place in a short visit, without surgery!
IS IT SAFE TO ACHIEVE THIS RATIO WITH FILLERS?
While everyone is different, there is always "a something" that would benefit from "a little tweaking". There are several tools available to help achieve this ratio – and simply – make you look more refreshed. Restylane® and Perlane® are hyaluronic acids (a product you have in your body in abundance naturally) and can be administered in the appropriate areas and amounts to naturally augment what you already have. In addition, excessive muscle movement can distort the normally smooth dimensions that are present in youth and are more distorted later in life due to the constant, yet unnecessary movements that are created out of habit. Dysport®, a neuromodulator can "relax" these overactive muscles to help recreate that youthful softness you once had.
WILL I STILL LOOK LIKE ME?
The beauty of these small enhancements is that you really look like you, but when you get closer to the Divine Ratio, you simply look like a "better" you.  The changes are subtle, and people think you look "fresh and rested" without the evidence that you had anything done!
CAN ANYONE CREATE THESE SAME RESULTS?
While the "Phi" ratio is the new hot topic, there are not many providers who have either heard of it, or much less understand it. It does take a bit of learning to master, but once you do, facial perfection can be achieved with a little Restylane® or Perlane®.
IS THIS RATIO JUST FOR THE FACE?
The interesting thing is that it is not just for the face. Take a look at your hands. The ratio is apparent everywhere. From your wrist to your first joint to the last joint, from the first joint to second joint to the last joint, all of these numbers are in play. Your whole body is a divine creation! The measurements are everywhere. Make sure you go to someone who can do the math!
Dr. Bonnie Marting, DNP, ARNP specializes in cosmedic dermatology. She received advanced aesthetic training at Johns Hopkins University. Dr. Marting is also a consultant and speaker for Allergan, maker of Botox® and Juvederm®, and Medicis, distributer of Restylane® and Dysport®.
ANUSHKA
SPA – SALON – COSMEDICAL
561.820.0500
www.anushkaspa.com