By Lee R. Cohen, D.D.S., M.S., M.S. –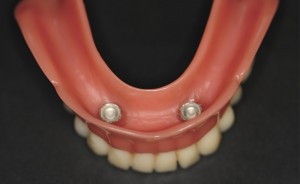 Patients of all ages suffer from tooth loss for a variety of reasons.  In many of these instances, the missing teeth are replaced with a dental device called a Removable Denture.  Removable Dentures can be used to replace all of the teeth on the upper or lower jaw (called a Complete Denture) or replace only the missing ones if some teeth are still present in the mouth (called a Partial Denture).
Dentures have been used for years as a basic way to help patients restore both their smile and their ability to chew in a fairly inexpensive fashion.  Although dentures typically may be the least costly option financially, this treatment often comes with patient frustration and dissatisfaction.  Over time patients typically experience more and more issues with denture retention, leading to issues with speech and chewing.  Beyond the obvious concern of embarrassment due to denture movement, chewing function can be impaired which in turn can have an impact on the types of food that can be eaten and overall nutrition.
Understanding Dentures:
In order to understand why denture wearers often experience frustration with chewing and speech, it is important to review how dentures work.  A denture functions by sitting on the gum and bone for support.  In the case of total tooth loss, the plastic portion of the denture sitting on the gum "hugs" this tissue for retention.  The more bone and gum present, the better the retention of the denture.  At the time the denture is made, the dentist takes a very accurate mold of the gum and bone structure to achieve as accurate and snug a fit as possible.  Typically, with some basic adjustments a new denture fits and functions fairly well.
We have learned that when teeth are lost (whether it be one tooth or all teeth), over time we experience loss of supporting jaw bone in the areas involved.  Research has shown that up to 25% bone loss has been identified in these locations within one year of tooth loss.  Therefore, although the fit of the denture is snug and retentive the day it was inserted by the dentist, the gradual loss and change in shape of the jaw bone reduces what the denture can grab onto.  Voids between the denture and the gum become more significant and subsequently rocking or movement of the denture increases.  It is for this reason that many patients are forced to utilize denture adhesive (for example, Fixodent).  The adhesives help try to fill the voids and must be applied frequently to help reduce denture movement.
Partial dentures can also experience the same issues.  They too rest on the gum and bone in the areas where teeth are missing.  These appliances often rely on the teeth adjacent to the missing ones through the use of clasps ("arms" that grab the neighbors for support).  It is possible that in some situations the rocking movement of the partial denture can continually weaken the teeth which are acting as support for the clasps.
Improving Denture Retention:
Many dentures patients seek help with denture retention to improve everyday issues with chewing and talking.  Today, in many situations, we are able to dramatically improve overall retention and therefore function of these appliances.  This can often be achieved by the placement of a dental implant.  A dental implant (also called a "root replacement") has a similar shape to a tooth root.  These root replacements can often be placed in the bone where your previous tooth roots existed.  The use of a dental CT scan can help identify exactly how much bone remains and where the most ideal locations are to place implants.
Lee R. Cohen, D.D.S., M.S., M.S., is a Dual Board Certified Periodontal and Dental Implant Surgeon.  He is a graduate of Emory University and New York University College of Dentistry. Dr. Cohen completed his surgical training at the University of Florida / Shands Hospital in Gainesville, Florida.  He served as Chief Resident and currently holds a staff appointment as a Clinical Associate Professor in the Department of Periodontics and Dental Implantology.  Dr. Cohen lectures, teaches and performs clinical research on topics related to his surgical specialty.
The focus of his interests are conservative approaches to treating gum, bone and tooth loss.  He utilizes advanced techniques including the use of the Periolase Dental Laser (LANAP procedure) to help save teeth and treat periodontal disease without the use of traditional surgical procedures.  Additionally, he uses in-office, state of the art 3D CT imaging to develop the least invasive dental implant and bone regeneration treatment options.  Dr. Cohen and his facility are state certified to perform both IV and Oral Sedation procedures.
Lee R. Cohen, D.D.S., M.S., M.S.
4520 Donald Ross Road, Suite 110
Palm Beach Gardens, FL 33418
Phone: 561-691-0020
www.pbcperio.com