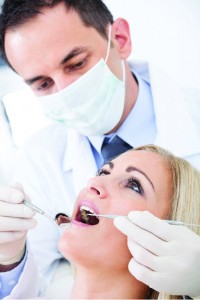 Diabetes affects nearly 30 million Americans today and the link to gum disease may surprise you.
The surprising fact that periodontal disease (gum disease) has a direct association to diabetes really shouldn't be alarming at all. In fact, if you think about it, the mouth is the pathway to the body. What you breathe, eat and digest directly affects the health of your body.
According to the American Diabetes Association, "Not only are people with diabetes more susceptible to serious gum disease, but serious gum disease may have the potential to affect blood glucose control and contribute to the progress of diabetes." The association notes that almost 2 million people are diagnosed annually with Diabetes, while another 86 million are estimated to have prediabetes.
Periodontal disease is the most common dental disease in people who are living with diabetes.
Am I At Risk?
People with diabetes are unfortunately at a higher risk of developing oral health issues. This is due to the fact that the risk of bacterial infection is greater with the decreased ability to fight off bacteria in the gums. Basically, your body fights hard to do the simple task of removing waste while attempting to deliver the nutrients necessary for the body. As you age, the risk of getting periodontal disease is greater due to poor sugar control.
What are the symptoms?
When left untreated, diabetes has several symptoms in relation to your oral health. A few of these symptoms are:
1.    Dry Mouth
2.    Gingivitis (inflamed gums)
3.    Susceptible to infection inside the mouth
4.    Higher risk of cavities
Stay In Control!
One of the best ways to treat periodontal disease if you have diabetes is to stay in control of your blood sugar. Practicing good oral hygiene will help maintain healthy gums and assist in the prevention of gum disease. This includes brushing your teeth at least twice a day and remembering to floss each and every day as well. If you are not in control of your blood sugar, you are much more likely to have gum disease and the probability of losing your teeth is much higher. If you wear dentures, be sure to clean them every single day.
Visit Your Dentist Regularly.
Make sure you are visiting your dentist for regularly scheduled hygiene appointments. Treating periodontal disease has been shown to improve blood sugar control for those living with diabetes. Our expert team of dental professionals use only the most advanced state-of-the-art equipment to diagnose and treat our patient's conditions. Routine visits to Advanced Dentistry South Florida in Delray Beach, FL will help you maintain that beautiful smile and keep you healthy.
Where Can I Find
Advanced Dentistry South Florida?
Advanced Dentistry South Florida is dedicated to providing first class dental services for over three decades, enhancing the overall health of patients from Delray Beach, Boca Raton, Boynton Beach, West Palm Beach and surrounding areas in South Florida. Whether you are in need of general dentistry, cosmetic dentistry, oral surgery, endodontics, or periodontics, our elite team of doctors is dedicated to helping you achieve your greatest smile and optimum oral health. Contact us today at 561-404-4083 to schedule your appointment with one of our dental professionals, or visit us on the web at www.ad-sf.com. Stop by our office in the Village Professional Center at 15340 Jog Road, Suite 100, Delray Beach,
FL 33446.