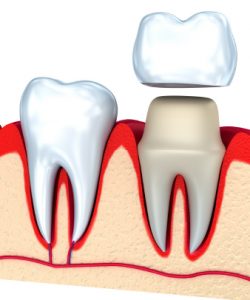 One of the most common procedures a dentist performs when deep decay exists in a tooth is making a crown (also known as a "cap"). Ultimately, when in place, the crown will allow a patient to chew properly and help slow further cavities in the area. A successful crown requires not only a good fit to the tooth, but a proper fit with the adjacent gum and bone.
The Tooth Part:
The steps in preparing for a crown start with having the dentist remove any decay present (in some circumstances, this decay can proceed deep below the gum tissue). Once free of cavities, the top portion of the tooth is shaped similar to a cone. An impression is taken of the area (that messy mold all of us love so much) which is sent to the laboratory for fabrication of the actual crown. Once the crown is delivered to the dentist, it can be glued in place for function.
The Gum and Bone Part:
An equally important part of the success of a crown is the health of the surrounding gum and bone. If the gum becomes inflamed, it is quite possible that the bone in the area will resorb away. This resorption can lead to issues such as bleeding gums, dark/swollen gums, tooth mobility, tooth loss, root sensitivity and root cavities. If the gum tissue is interfered with by the crown, this inflammatory process can start.
If we think about our skin, it has a certain thickness. Imagine taking a small object and pressing it into the skin, pinching it against the underlying bone….permanently. Over a short period of time, the skin will likely become very inflamed and angry. Just like our skin, gum tissue also has a certain thickness. If a crown presses into this tissue, not allowing for a healthy thickness, inflammation will occur. In short, the body is attempting to create more space for the gum tissue to remain healthy by resorbing bone away. Insufficient space is a common occurrence, especially when the dentist must remove a significant amount of tooth structure due to decay. The less tooth structure to glue the crown to, the less space for gum tissue to live when a crown is cemented in place.
Keeping it Healthy:
If the gum space is going to be disturbed by a crown, then a procedure called a "crown lenghthening" usually can help rectify the situation. In simple terms, the gum and bone is reshaped to allow for enough tooth to be exposed to support a crown without interfering with the gum tissue. Simply removing only gum tissue may not be sufficient, as the tissue will attempt to regrow to its original shape. If it reforms and is compressed by the crown then inflammation is likely to occur (this is why the bone is reshaped as well so that sufficient room is created).
It is important to have the gum and bone space evaluated when having a crown (or crowns) placed in your mouth. In some cases, you may require crown lengthening to help maintain healthy gum and bone.
Lee R. Cohen, D.D.S., M.S., M.S., is a Dual Board Certified Periodontal and Dental Implant Surgeon. He is a graduate of Emory University and New York University College of Dentistry.
Dr. Cohen completed his surgical training at the University of Florida / Shands Hospital in Gainesville, Florida. He served as Chief Resident and currently holds a staff appointment as a Clinical Associate Professor in the Department of Periodontics and Dental Implantology. Dr. Cohen lectures, teaches and performs clinical research on topics related to his surgical specialty.
The focus of his interests are conservative approaches to treating gum, bone and tooth loss. He utilizes advanced techniques including the use of the Periolase Dental Laser (LANAP procedure) to help save teeth, dental implants, regenerate supporting bone and treat periodontal disease without the use of traditional surgical procedures. Additionally, Dr. Cohen is certified in Pinhole Gum Rejuvenation, which is a scalpel and suture free procedure to treat gum recession with immediate results.
Dr. Cohen uses in-office, state of the art 3D CT imaging to develop the least invasive dental implant and bone regeneration treatment options. Dr. Cohen and his facility are state certified to perform both IV and Oral Sedation procedures. Botox® and Dermal Fillers are also utilized to enhance patients' cosmetic outcomes.
Dr. Cohen formerly served on the Board of Trustees for the American Academy of Periodontology and the Florida Dental Association. He is past president of the Florida Association of Periodontists and the Atlantic Coast District Dental Association. Dr. Cohen is a member of the American College of Maxillofacial Implantology and the American Academy of Facial Esthetics. In addition, he has been awarded Fellowship in the American College of Dentists, International College of Dentists and the Pierre Fauchard Academy.
561-691-0020