By Dr. Alan J. Bauman, Hair Loss Specialist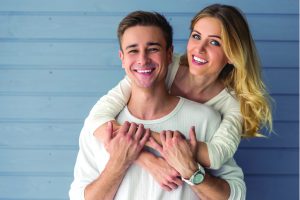 You can't always trust the "mirror test" when it comes to spotting hair loss – you could be going bald and not even know it.
Invisible baldness is a condition that affects both men and women, typically in their 30s or 40s, but it can begin earlier as well.
What is "invisible baldness?" Invisible baldness is essentially the initial stage of a chronic hair loss condition such as androgenetic alopecia that is especially difficult to spot with the naked eye. Scientific research confirms that it generally takes about 50% of the hair to be gone before baldness becomes clearly visible (e.g., receded hairline, widening part, thinning on top, etc.). In general, hair loss is a chronic, progressive condition that gets worse over time without treatment. This means that the earlier you start on preventive or restorative hair loss therapies, the better your odds for retaining a full and healthy head of hair.
One way you can check for early signs of hair loss is to keep an eye on how much hair is being shed each day. A typical healthy head of hair will only lose about 50 to 100 hair strands per day. Therefore, if you're noticing an above average number of hairs on the pillow in the morning or in the shower drain or in your brush, you may be in the beginning stages of male or female pattern hair loss. That said, however, excessive shedding doesn't always mean you are losing your hair – it could also be a sign of a larger underlying health condition or scalp issue, which results in temporary hair loss or "Telogen Effluvium."
Other symptoms of early loss may include receding or thinning in the temple areas, less overall volume or a slight decrease in coverage of the scalp in sunlight or other lighting conditions.
For these reasons, it is important to schedule a visit with a board-certified Hair Restoration Physician whenever these initial symptoms are first observed. The physician will evaluate your situation and do a complete exam including a microscopic evaluation of your scalp and take baseline measurements. Your hair doctor may recommend blood tests and/or genetic tests that will help determine what treatments are likely to help.
Hair restoration physicians have several tools at their disposal to gauge a person's risk of hair loss. These tools can help detect hair loss in its earliest stages, and in some cases, before it even begins.
Effective hair loss evaluation tools include:
●    Genetic tests – A new genetic test by HairDX can accurately determine a person's risk for losing their hair, so they can begin preventive treatments early. The analysis uses a simple cheek swab and can determine the genetic risk of developing male and female pattern hair loss.
●    Hair density measurements – The HairCheck® device is a highly sensitive hand-held 'trichometer,' which measures hair caliber and hair density together, and expresses them as a single number known as the Hair Mass Index (HMI). Doctors and Bauman Certified HairCoaches routinely use this scientific measurement to accurately assess percentages of hair loss, growth and breakage on any area of the scalp. Not just diagnostic at the time of initial evaluation, this information also helps monitor and track the efficacy of any treatment regimen.
●    Scalp Exam – Newly developed "Scalp Makeover" evaluations are highly effective at determining if an underlying problem with the scalp may be the root cause of a hair disorder. Patients are evaluated with non-invasive, pain-free skin diagnostic tests that check and measure the scalp's pH, sebum and hydration levels to determine any imbalance. Scalp testing is available for both men and women.
●    HairCam™ Microscopy – Specialized hand-held scalp microscopes with special dual-polarized LED lighting can detect miniaturized hairs vs. areas of depleted density as well as help diagnose rare hair loss conditions and other scalp problems.
Seeing it Through
Just like hair loss, initial subtle changes in hair regrowth take time before they are noticeable to the naked eye, often taking 6-12 months to see visible results from a treatment. Consistent tracking with HairCheck measurements can confirm the early response to therapy at the scalp and predict the visible improvements to come.
Take Home Message
Hair loss is a treatable condition, but the earlier the problem is detected and treatment started, the better your chances are for keeping your hair.
Established in 1997 by Board-Certified Hair Restoration Specialist, Dr. Alan J. Bauman, M.D.
World's largest and most comprehensive stand-alone clinic dedicated exclusively to hair transplantation and the treatment of hair loss in men and women.
Located in the heart of beautiful downtown beachside Boca Raton, Florida.
Comprehensive medical hair loss consultations including routine HairCheck and HairCam evaluations.
Hair Restoration services include no-linear-scar NeoGraft FUE and ARTAS Robotic-Assisted FUE hair transplants, FDA-cleared laser therapy devices for hair regrowth, non-greasy compounded Formula 82M topical minoxidil, Platelet-Rich Plasma (PRP) "Vampire" hair regrowth treatments, FDA-approved oral Propecia/Finasteride, Eyelash/Eyebrow transplants, plastic surgery scar coverage, hairline lowering, hair transplant touch-ups and repair.
Private individual long-distance and in-office consultations available with Dr. Bauman by visiting www.BaumanMedical.com or calling 561-394-0024