By Dr. Alan J. Bauman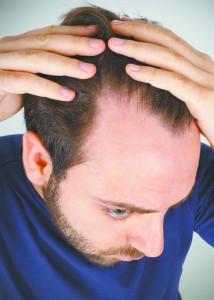 One of the most common myths when it comes to hair loss is that it's only passed down from the mother's side of the family. In reality, genetic factors that influence hair loss can be inherited from either your mother's or father's side of the family.
Scientists believe there are approximately 200 genes that regulate hair growth and hair characteristics like caliber, color and curl which can all play a role in scalp coverage. After puberty, the hereditary hair loss genes can take over—causing a gradual and progressive miniaturization of hair follicles—weakening hair production over time until baldness occurs. According to the American Hair Loss Association, by the age of thirty-five, approximately two-thirds of men will experience some degree of hair loss; and by the age of fifty, eight-five percent of men have significantly thinning hair. Despite what some may believe, hair loss is not strictly a 'man's problem.' More than half of all women over forty experience thinning hair, and they can inherit 'hair loss genes' too, just like men.
For those at risk, over time hair follicles spend more time resting and less time producing hair.  This means that someone prone to either male or female pattern hair loss is experiencing the production of weaker and thinner hairs as well as fewer numbers of hairs over time. The good news however is that the earlier you seek effective medical treatment from a full-time hair loss specialist, the better your chances of maintaining and enhancing your own living and growing hair.  The keys to successful treatment are early intervention, scientific tracking and regular follow-up with a medical professional.
The most common cause of thinner, less voluminous hair is genetics. Based on our DNA, again, a combination of our mother's AND father's genes, we are prone to thinning hair starting at a certain time in life anytime after puberty and progressing at a certain predetermined speed. Illness, medications, stress, nutrition, inflammation of the scalp, social factors and other habits can accelerate the problem, but again, genetics are most likely to blame for your thinning locks.
So how can you tell if you have the hair loss gene? Today, with a simple swab of the cheek, you can accurately determine your chances of losing significant hair later in life. New genetic tests, like HairDX, not only tell whether you're at risk for future hair loss, but they can also predict how well you will respond to treatments with oral treatments, like finasteride/Propecia. Early intervention is the key to preventing and managing hair loss. If a patient who's genetically prone to hair loss starts treatments early on, he or she may be able to maintain a full, healthy hairline and adequate scalp coverage for many years to come.
About Genetic Hair Loss Tests:
Hair Loss Risk Assessment:  The quick, non-invasive, DNA tests are a reliable way to determine if you are 'high-risk' or 'low-risk' for the hereditary form of hair loss and whether you are a good candidate for medical treatment. Please note: this type of test is a risk assessment, not a specific "yes or no" answer.
Treatment Response Test: In addition to learning whether or not you are "at-risk," the HairDX genetic test is also available which predicts your response to medical treatment (finasteride/Propecia).
This information can help patients avoid spending hundreds or thousands of dollars on a treatment that may not be effective for them, and can help guide the physician to tailoring a treatment regimen for their specific needs.
Genetic "Androgen Sensitivity" Test for Women – This test result tells women if they are sensitive to androgens (male hormones), which can be related to hair loss, plus a wide range of other conditions such as acne, infertility and polycystic ovaries. This test also predicts whether postmenopausal women are likely to respond to anti-androgen therapies (like finasteride, spironolactone, etc.)
If you're worried about hair loss, or are interested in learning whether or not you have the 'hair loss gene,' it is important to consult with an experienced hair restoration physician—someone who specializes exclusively in the medical diagnosis, treatment and tracking of hair loss. Only a qualified and experienced hair restoration physician can prescribe the most effective multi-therapy treatment options, including the latest available products.  Dr. Alan J. Bauman is the Founder and Medical Director of Bauman Medical Group in Boca Raton, Florida. Since 1997, he has treated nearly 15,000 hair loss patients and performed nearly 7,000 hair transplant procedures. A international lecturer and frequent faculty member of major medical conferences, Dr. Bauman's work has been featured in prestigious media outlets such as CNN, NBC Today, ABC Good Morning America, CBS Early Show, Men's Health, The New York Times, Women's Health, The Wall Street Journal, Newsweek, Dateline NBC, FOX News, MSNBC, Vogue, Allure, Harpers Bazaar and more. A minimally-invasive hair transplant pioneer, in 2008 Dr. Bauman became the first ABHRS-certified Hair Restoration Physician to routinely use NeoGraft FUE for hair transplant procedures.
Hair Loss StudyCandidates Needed!
Bauman Medical is currently enrolling qualified candidates for an exciting Hair Loss Study.
Please visit www.844GETHAIR.COM for more details.
Hair Restoration for Men and Women
1.877.BAUMAN.9
www.BaumanMedical.com