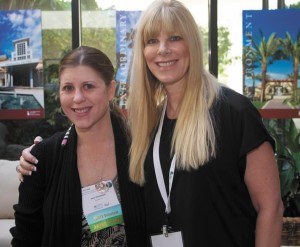 When you look in the mirror you may notice that you have your dad's nose and your mom's smile, but it's what you can't see that can significantly increase your risk of developing cancer. Aside from physical features, both parents can pass a genetic mutation in the BRCA 1 or BRCA 2 genes on to their children. Changes in the BRCA 1 or BRCA 2 genes can significantly increase your risk of developing aggressive types of breast or ovarian cancer.
Hereditary breast and ovarian cancers have aggressively attacked generations of families and FORCE: Facing Our Risk of Cancer Empowered is the only national nonprofit dedicated to awareness, advocacy, research and support for those affected by these cancers.
"Through awareness and education, the more than 750,000 people in the United States who carry the positive BRCA gene mutation can take steps to prevent cancer from continuing to impact the next generations. Today, an estimated 90 percent of those people do not know they carry this gene mutation," said Amy Byer Shainman, FORCE outreach coordinator in Jupiter. "We want families to pass down recipes, photos and memories to the next generation, not the risk of cancer."
BRACAnalysis®: Testing for Hereditary Breast and Ovarian Cancer
BRACAnalysis® is a genetic test that confirms the presence of a BRCA1 or BRCA2 gene mutation. BRCA mutations are responsible for the majority of hereditary breast and ovarian cancers. People with a mutation in either the BRCA1 or BRCA2 gene have risks of up to 87% for developing breast cancer and up to 44% for developing ovarian cancer by age 70. Mutation carriers previously diagnosed with cancer also have a significantly increased risk of developing a second primary cancer. Genetic testing, specifically the BRACAnalysis test, identifies patients who have these mutations.
BRACAnalysis is a simple blood test or oral rinse sample to find out if you have the BRCA1 or BRCA2 mutation. Knowing the results may help you and your healthcare provider act before cancer has a chance to develop.
Benefits of BRACAnalysis Testing
The results of the BRACAnalysis test enable the development of patient-specific medical management plans to significantly reduce the risk of cancer. BRACAnalysis will allow you to:
Target increased surveillance and other interventions specifically to individuals with a BRCA1 or BRCA2 mutation – maximizing patient care and increasing clinical efficiency
Significantly improve outcomes and reduce medical costs through earlier diagnosis and treatment of cancer, should it develop
Counsel patients and family members on the underlying causes of the pattern of breast and/or ovarian cancer in their family
Avoid unnecessary interventions for family members who do not test positive for the mutation known to be in the family
Medical Management and BRACAnalysis
If BRACAnalysis testing confirms the presence of a BRCA1 or BRCA2 mutation, the following medical management options may help reduce cancer risk and may either delay the onset of cancer, detect cancer at an earlier, more treatable stage or may even prevent it.
Increased surveillance for breast cancer in mutation carriers
Increased surveillance for ovarian cancer in mutation carriers
Risk-reducing medications for mutation carriers
Prophylactic surgery in mutation carriers
Women with BRCA mutations have options for managing their risks for breast and ovarian cancer. The most appropriate options differ between women and depend on many considerations. In general there are three categories of risk management options: chemoprevention, surveillance, and prophylactic (risk-reducing) surgery.
Amy is a previvor; someone who has never had cancer but has an extraordinarily high risk for getting it. At only 33, her grandmother died of breast cancer. Her great grandmother died of ovarian cancer at age 46. Several of her father's female first cousins developed breast cancer at young ages. In 2008, Amy watched her sister battle both ovarian and uterine cancer. Amy's sister went on to be diagnosed with breast cancer too in January 2011. (They found the cancer when she was having her MRI to prepare for preventative/prophylactic surgery). Amy decided to seek genetic counseling and tested positive for a BRCA1 gene mutation in 2009. She inherited the mutation from her father.
Reflecting on her decision to have preventative surgery Amy says, "I saw only two choices in front of me–do nothing or do something. I could sit around with my high risk percentages and dense breasts and wait to see if I would get a hereditary female cancer or I could have prophylactic surgeries and virtually cure myself before any issue of cancer would arise. I realized that I am greater than the sum of my parts. I underwent two prophylactic (preventative) surgeries. In March of 2010, I had a complete hysterectomy and in September of 2010 I had a skin-sparing, nipple sparing mastectomy with reconstruction."
The prophylactic surgeries reduced Amy's risk for breast cancer from about 87% to about 3% and have made it so she will never get or die from ovarian cancer. Amy urges anyone with a family history of cancers to seek genetic counseling and testing.
Cancer risk assessment, risk factors and risk management options may differ for people with hereditary cancer risk or a BRCA mutation than for people in the general population. It is important to consult an expert in cancer risk assessment and risk management to determine what your personal risk for hereditary cancer may be.
Everyone's journey with hereditary cancer is different. What is right for one person may not be right for another person. FORCE wants individuals to be empowered with the knowledge about hereditary cancer so that they can make the best healthcare decisions for themselves and their situation.
To learn more about the hereditary cancer support and services provided by FORCE, please visit www.facingourrisk.org.
Signs of Hereditary Breast and Ovarian Cancer (HBOC)
Ovarian or fallopian tube cancer at any age
Breast cancer at age 50 or younger
Breast cancer in both breasts at any age
Both breast and ovarian cancer
Male breast cancer
"Triple-negative" breast cancer
Ashkenazi Jewish heritage and breast cancer before age 60
More than one relative on the same side of the family with any of these cancers:
Breast cancer
Ovarian or fallopian tube cancer
Prostate cancer
Pancreatic cancer
Melanoma