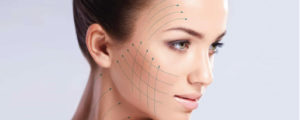 We can all relate to looking in the mirror, turning our head from side to side and using our fingers to pull that skin along our jawline up and back. Instantly our face looks better and we think "just this little change makes me look so much younger!" We want a natural, refreshed look and we want that youthful change to happen quickly, easily and safely without surgery.
One of the hottest trends in body smoothing and lifting are PDO Threads. PDO (polydioxanone) is a safe biocompatible, biodegradable synthetic fiber that has been used in surgery for more than 40 years. The effects of using the PDO fiber as a treatment, rather than part of a surgical procedure, can provide a lifting, toning and smoothing effect that helps restore a youthful definition to our body skin.
What is the Scientific Logic behind PDO Threads? The threads stimulate production of new collagen protein and elastin in our tissue, which results in better hydration, improved circulation, greater elasticity and firmness of the skin.
Which body areas can be treated? Jowls, nasolabials, marionette lines, brows, tear trough, vertical lip lines. Other body areas that can benefit from the rejuvenating, lifting and smoothing effects are the belly, belly button, knees, arms, buttocks, thighs and décolleté. For example, one of common places we may notice loose skin is above the knees, especially here in Florida where they are on display most of the time. Threads can build a collagen mesh that lifts and thickens the skin, fades lines and softens folds for a better overall look to the area.
How do the PDO Threads Lift? The treatment uses threads that are carefully placed under the skin to subtly elevate the area to smooth and soften the surface appearance of the skin. A combination of a smooth fiber thread and a textured fiber thread are used to provide a lift. A textured thread has been modified with tiny tags that help anchor them to the tissue under the skin to pull up the sagging area. The threads are completely dissolved by the body and replaced by the skin's natural collagen and elastin that preserves the lifting effect.
Who would benefit most from PDO Body Threads? Those who have sagging or wrinkled skin due to aging, sun exposure, hormonal changes and weight loss. Those that want a natural rejuvenation of their body skin that is safe for all skin types, convenient and effective. Those with realistic expectations for a non-surgical lift especially in areas of the abdomen and buttocks. Realistic results would include smoothing of lines, wrinkles and improvement of surface texture for abdomen, buttocks, thighs and décolleté. Realistic actual lifting results would be more apparent for knees, arms and belly button.
What to expect during & after the PDO Body Thread procedure? Prior to the procedure a local anesthetic to numb the area being treated is applied. A tugging sensation may be felt as the threads are passed under the skin. It takes about 30-45 minutes to complete the procedure depending on the number of areas to be treated. Light bruising, redness or mild temporary swelling may be experienced for 3-5 days. A mild sensation of tightness may last 1-2 weeks. There is minimal downtime. Personalized post treatment instructions are given to each person to ensure they have a comfortable recovery and achieve long lasting results.
PDO Threads can be used as a stand-alone treatment or combined with other non-surgical body contouring procedures such as Smart Lipo, Venus Legacy and Sculpsure to greatly enhance overall results and increase satisfaction.
PDO Threads will give you a smoother, firmer and more lifted reflection that you want to see in the mirror. This is an exciting new procedure that has gained great popularity in Europe & Asia as a non-surgical "lifting" technique.
The best way to discover if you or someone you know would benefit from a PDO Thread Lift is to have a complimentary consultation. Each body area is unique and costs are determined based on individual anatomy and quantity of PDO Threads used.
For more information or to receive a complimentary consultation call 561-655-6325.
Daniela Dadurian, M.D. received her medical degree from the University of Miami School of Medicine. She is certified by the Board of Anti-Aging & Regenerative Medicine and the Board of Laser Surgery. Dr. Dadurian has also completed a fellowship in Stem Cell Therapy by the American Board of Anti-Aging Medicine. She is a member of the International Peptide Society, the American Academy of Anti-Aging Medicine and the Age Management Medicine Group. Dr. Dadurian is the medical director of several medical spa and wellness centers in palm beach county with locations in West Palm Beach and on the island of Palm Beach. She is a leading expert in anti-aging & aesthetic medicine. Her state of the art facilities offer and array of anti-aging, functional medicine, cosmetic and laser therapies.
Complimentary Consultation / Gift Cards
Financing Available
The patient and any other person responsible for payment has the right to refuse to pay, cancel payment, or be reimbursed for payment for any other service, examination or treatment that is performed as a result of and within 72 hours of responding to the advertisement for the free, discount fee, or reduced fee service, examination or treatment.
MD Beauty Labs
320 S. Quadrille Blvd., WPB
West Palm Beach, Fl
561-655-6325
340 Royal Poinciana Way, Suite 325D
Palm Beach, Fl
561-797-9090
1000 N. Olive Avenue,
West Palm Beach, Fl
561-223-2707