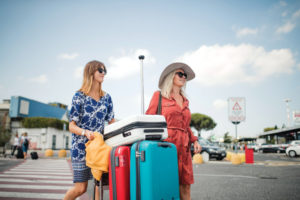 Vacationing to new places gets you out of your routine – that's the fun! Nonetheless late meals, unfamiliar food, being more active than usual, and different time zones can all interrupt diabetes self-management. Plan so you can count on more fun and less concern on the way and when you get to your destination.
Before You Leave
– Visit your doctor for a checkup to ensure you're fit for the journey.
– How your planned activities could affect your diabetes and what to do about it.
– How to adjust your insulin doses if you're traveling to a different time zone.
– To provide prescriptions for your medicines in case you lose them or run out.
– If you'll need any vaccines.
– To write a note stating why you need your medical supplies.
– Find pharmacies and clinics close to where you'll stay.
– Get a medical ID bracelet.
– Get travel insurance in case you miss your flight or need medical care.
– Order a special meal for the flight or pack your own.
– Set an alarm for taking your medicine especially during different time zones.
Packing:
Put your diabetes supplies in a carry-on bag (insulin could get too cold in your checked luggage). Think about bringing a smaller bag to have at your seat for insulin, glucose tablets, and snacks. Pack twice as much medicine as you think you'll need. Carry medicines in the pharmacy bottles they came in or ask your pharmacist to print out extra labels you can attach to plastic bags.
Airport security:
Get an optional TSA notification card to help the screening process go efficiently.
Good news: people with diabetes are exempt from the 3.4 oz. liquid rule for medicines, fast-acting carbs like juice, and gel packs to keep insulin cool.
A continuous glucose monitor or insulin pump could be damaged going through the X-ray machine. You don't have to disconnect from the equipment; ask for a hand inspection as a substitute.
Once You're There
Your blood sugar may be out of your goal range at first, but your body will regulate in a few days. Check your blood sugar often and treat highs or lows as instructed by your doctor.
If you're going to be more active than usual, check your blood sugar before and after. This will make adjustments to food, activity, and insulin as needed much easier. TrustedDiabetics.com will priority mail you extra diabetic supplies to your home or office with a carrying case and free glucose meter. That way you can have one at home and one for travel.
Don't overdo physical activity during the heat of the day. Use SPF to avoid getting sunburned and don't go barefoot, not even on the beach. You may not be able to find everything you need to manage your diabetes away from home, especially in another country. Learn some useful phrases, such as "I have diabetes" and "where is the nearest pharmacy?" If your vacation will include the outdoors, bring wet wipes or alcohol pads so you can clean your hands before you check your blood sugar.
Diabetes can make everyday life and vacation more challenging, but it doesn't have to keep you home. The more you plan, the more you'll be able to relax and enjoy all the excitement on your trip.
David Steinberg, Pharm D.
www.TrustedDiabetics.com