How to Keep Your Hair from Falling Out During this (Stressful) Holiday Season
By Dr. Alan J. Bauman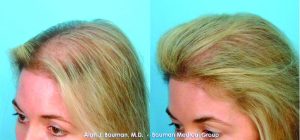 With the holiday season upon us, we're not too far from the mega-stress that comes with shopping, dealing with out-of-town guests, making special meal preparations, traveling and everything else in between. We all know that stress can take its toll on our physical and mental health, but did you know it can also affect your hair?
That's right, the increased emotional stress from the holidays can severely impact our hair follicles.  This effect is due in part to elevated cortisol levels and other hormonal fluctuations that happen inside us.  These physiological responses to stress can lead to temporary hair and scalp related problems such as excess shedding, hair thinning as well as dry and even flaky scalps.
The good news for us this holiday season is that stress alone doesn't cause permanent hair loss; the bad news however is that it can also lead to a hair loss situation called 'telogen effluvium' or excessive temporary shedding while also influencing and accelerating the 'normal' timeline for permanent hereditary male and female pattern hair loss to occur. People who are most susceptible to this type of stress-induced fallout are also likely have other factors working against them. Contributing factors to hair loss range from genetic predispositions to baldness, to certain health and lifestyle risk factors that may already be stressing on the hair follicles (e.g., illness, hormonal imbalance, lack of sleep, medications, poor nutrition, smoking, etc.).
Whether your problem is thinning hair, a dry or even flaky scalp, or hair that has simply lost its luster, here are a few simple steps you can take to put a life back into your "stressed tresses."
Scalp Makeover – If you're looking for something relaxing to gift either to yourself or for a loved one, consider booking a 'Scalp Makeover' appointment. During this scalp pampering session, each guest can enjoy a therapeutic scalp steaming and a relaxing scalp massage, as well as hair growth boosting treatments such as low-level laser light therapy. A beautiful head of hair starts with a healthy scalp. A scalp makeover can serve as a relaxing break that will also help overcome common hair problems, including hair thinning, excessive shedding and breakage.
Feed Healthy Hair – Your body needs food to live and grow, and in turn, so does your hair. How you eat can determine how healthy, or unhealthy, your hair is going to be. Women and men who lack a balanced nutrition are more at risk of having thinning occur to their hair.  Another tip is to avoid extreme "crash" diets because they can lead to major shedding and temporary hair loss. For those looking to give their hair a real added boost, nutritional supplements added to a healthy diet can be extremely effective in helping follicles produce healthier, stronger, shinier hair.
Nutritional Supplements – Another easy way to support healthy hair throughout the holidays (and year round), is with specialized nutritional supplements which can boost healthy hair growth and improve the overall quality and appearance of your hair. While taking a vitamin seems like an easy fix, it is important to do your homework, because not all hair supplements are created equal. Some good choices include Bauman MD Hair Vitamin Complex and Viviscal Professional, which contains Amino-Mar (sustainable shark cartilage) as well as high-dose medical-grade 10,000 mcg Biotin taken daily. Nutrafol is another high-tech hair supplement that has promised to be helpful for "stress shedding."
Low Level Laser Light Therapy – Over the past few years, the FDA has given the "official approval" to a select few low-level laser devices as proven safe and effective for the treatment of hair loss by re-growing and improving hair growth-and not just for men, but for women too. The latest group of hands-free helmets and caps, offers a discreet, powerful, convenient and effective hair loss treatment that is non-chemical, non-invasive, as well as side-effect and pain-free.
Platelet-Rich Plasma (PRP) for Hair Regrowth – A PRP treatment is a quick yet highly effective "lunchtime" procedure that is great to have done especially during the holidays to combat hair loss. Natural growth factors locked within the platelets of your own blood are concentrated, collected and then carefully redirected into the areas of hair loss, stimulating hair regrowth.
A PRP session only takes about one hour and there is virtually no downtime afterwards. Be sure to choose a board-certified hair specialist when looking for where to get a PRP hair regrowth treatment done because not all PRP procedures are done equally.
It is important to know that hair loss or other hair problems caused by stress, whether emotional or physical, can be particularly difficult to self-diagnose.  A temporary hair loss episode doesn't usually happen immediately following the stressful period or triggering event – it often happens weeks, or even months afterwards. This means that you may not see the impact of a stressful holiday season until one or maybe even two months later.
To properly diagnose the cause of your hair loss or thinning, or other serious hair or scalp problems, it is important to be evaluated by a board-certified hair restoration physician, who can accurately measure and evaluate your situation–helping determine if your hair loss is in fact due to stress, or if it is a symptom of a more serious underlying health condition.
Beware of Holiday-Related "Crash" Diets
Crash dieting may seem like the perfect way to shed some of the unwanted pounds we may all inevitably pack on during the holidays, but these drastic changes in nutrition can have serious implications on our health – and our hair.
'Crash dieting' can lead to temporary hair loss.
Four to six weeks after starting a crash diet, major shedding may occur anywhere throughout the scalp.
A steep drop in nutrients to the body forces some hair follicles to shed their hair strands and go into a prolonged resting phase during which time no new hairs are grown.
Shedding condition is usually temporary, but it could still take anywhere from 6 to 10 months for the hair to return.
If you are concerned about sudden hair loss or are experiencing thinning hair following an extreme diet, seek advice and an evaluation from a hair restoration physician for measurements, treatments and tracking because untreated hereditary hair loss always gets worse with time.
Bauman Medical Group
Hair Transplant and Hair Loss Treatment Center
1450 S Dixie Hwy
Boca Raton FL 33432-7359
Toll Free: 1-877-BAUMAN-9
Tel: 561-394-0024
Fax: 561-394-4522
Email: doctorb@baumanmedical.com