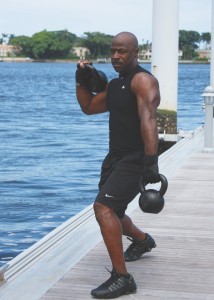 After 17 years under consistent ownership, Ultima was acquired in May by Tamie and Michael Platt, residents of downtown WPB.   "I was a member of Ultima and after years of telling my trainer, Pete Pietrini (Director of Personal Training), all the things I would do if I owned the gym, I decided to actually do it," says Michael.
The NEW Ultima has been given a near total face lift; new colors, new floors, new bathrooms and brand new state-of-the-art equipment from Star Trac, including over 30 pieces of cardio with built in TVs.
"I almost didn't recognize the place when I walked in," says member and Hall of Fame pitcher Jim Palmer.  "Ultima always had world-class members… now Ultima is a world-class facility."
There are now separate areas for stretching, functional training, spin classes, MMA Fighting/Boxing and the new "Camp Ultima": a concept club for serious fitness fanatics, where members participate in Boot Camps, TRX Classes, Kettle Bell Training and more.
"I think this was my husband's mid-life crisis," said owner Tamie Platt.  "Given the facelift, a Porsche might have been more prudent… but seriously, we've poured our hearts and souls into Ultima.  It's how we have always done business."
"Ultima is more than a gym, it's our community," said member Tom Tesser.  "The staff and facility are just amazing."
Check out the Ultima Fitness Downtown facelift, get a tour or even ask for a 7-day trial pass.
New Owners Introduce "Camp Ultima"
In September 2013, the new owners of Ultima Fitness Downtown introduced their new concept club, "Camp Ultima."  This brand new facility, located in additional space just south of the main gym at Dixie Highway and Clematis Street, offers high-intensity Boot Camps, TRX Training classes, Kettle Bell Classes, Mixed Martial Arts training and so much more.
"Our members' level of commitment to fitness is amazing… we are the Ulti-Maniacs," said Boot Camp Director, Anthony Webb.  "We're like our own little family, hugging and slugging, competing and cheering each other on, at the same time."
Camp Ultima offers an incredible new facility along with the finest instructors and trainers in South Florida.  Unlike some of the new Boot Camp facilities opening throughout the area, Camp Ultima members get the best of both worlds as their membership includes access to all Ultima Fitness facilities, classes and equipment. It's another step forward in Ultima's commitment to providing a world-class fitness experience to the people of South Florida.
CAMP ULTIMA
561-659-1724
www.ULTIMADOWNTOWN.com
400 Clematis Street
West Palm Beach, Florida 33401