By iMOM.com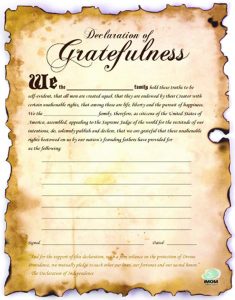 Over 200 years ago, after much thought and prayer, fully knowing their lives would be at risk, the great men of our country issued a declaration for independence. The result was the opportunity for us to enjoy a freedom that has allowed our country to prosper as no other country before it. We have so much for which we should be grateful.
Declaration of Gratitude
As the founding fathers gathered in the Continental Congress long ago, gather your family. Discuss and list the freedoms, people, opportunities for which your family is grateful. Use the Declaration of Gratefulness to form your list. If you are celebrating with other families, take turns reading your declarations to each other. To download a copy of the Declaration of Gratitude, go to imom.com and type Declaration of Gratefulness in the search bar.
After completing and reading your family declaration, consider praying as our founding fathers did for our nation, its leaders and its future.
Fun Thanksgiving Activities
Thanksgiving Day is also for fun, food, and football. So when the food is enjoyed and the football is over (or the score is out of reach), it is time for fun! Here are some creative activities for kids and adults alike… rain, shine, or snow.
• Pin the tail on the turkey. Have your kids draw a turkey with a missing feather and feathered "tails" to take its place. Put a piece of tape on each tail and see who can get closest to the spot of the missing feather.
• If it's warm enough, head outside. Have three-legged races, play a "Pass the sweet potato" relay, or have a turkey trot race where everyone has to strut like a turkey. To make it even more fun, give out a trophy every year to the big winner. Inscribe the year and winner's name and have them bring back the trophy next Thanksgiving to hand off to the next winner.
• If you're stuck inside, play board games. Have a chess tournament, a monopoly marathon, or play Pictionary.
• Get a spiral notebook or journal. Write the date and have everyone write down what they're most thankful for from the past year. Make it a tradition. Bring out the book every year and add new memories.
• Decorating cookies isn't just for Christmas. Prebake some sugar or gingerbread cookies. Have a decorating station where the kids and adults can decorate Thanksgiving-themed cookies.
• Write down the names of everyone at your Thanksgiving dinner on slips of paper. Draw a name and tell what you're most thankful for in that person.
• Read the story of the Mayflower or the first Thanksgiving. Better yet, act it out!
• Have a blank card or have the children make a card. Have everyone sign it and mail it to a family member or a friend who couldn't join you.
• Have everyone bring a toiletry item (comb, brush, razor), snack food, or other small gift to pack up to send to a soldier overseas.