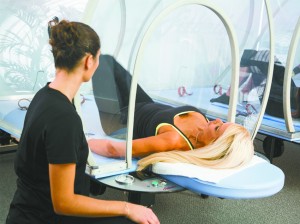 Over the years, brides-to-be have taken drastic measures to lose weight ahead of the Big Day: drinking a concoction of lemon juice, water, syrup, and cayenne pepper, wiring their mouths shut, and even dieting with the use of feeding tubes.  Don't get me wrong what you put into your body is vitally important to your health and weight, but creating lean long lines and dropping pounds in a hurry will always involve exercise, more specifically the right kind of exercise.   Take it from Diana Mendoza, a Palm Beach Gardens resident, busy career woman and more recently a bride to be looking to drop a few pounds and inches.
Diana's then fiance (now husband) heard about Fitbella's program and shared it with his bride-to-be who had been searching for an exercise program to fit her needs.  Diana investigated further, "it seemed like an easy alternative to lose weight and get in shape for my big day".  Diana was not an avid fitness guru, but did try to find time to walk and ride a bike, "I never followed a structured workout", but she was determined to try something new to reach her goal by wedding day.
Finding time to dedicate to working out can be the down fall for many women.  Our lives are busy, and after a full day of running, childcare and/or work heading to the gym for an hour sweat session is less than appealing.  Diana faced the same challenge but found Fitbella's program to be motivating, "it's not strenuous and not too time consuming, I feel good about myself and have a more positive attitude after a workout".  Diana's commitment to Fitbella was only reinforced when she began to see results in a short time, "I am continuing to be part of Fitbella to achieve my ultimate weight loss goal", well after her wedding day.
At Fitbella, exercise and nutrition plans are individually tailored for each client's particular needs, physical abilities, and lifestyle.  There is no "one plan fit's all" approach – every individual at Fitbella works 1:1 with a Fitcoach to custom tailor a fitness program and nutritional approach. The personalized approach doesn't end when a plan is developed, each training session is 1:1 with your personal Fitcoach.
To learn more about how a customized Fitbella approach can help you reach your fitness goals for your big day contact Fitbella at 561-775-0122 for a Free consultation.
FITBELLA
561-775-0122
2401 PGA Blvd., Suite 128
Palm Beach Gardens Fl, 33410
Harbour Financial Center (Carmine's Plaza)