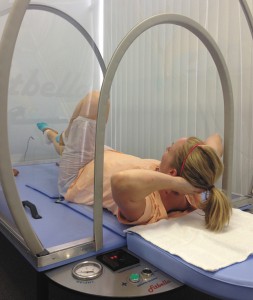 You keep your skin clean. You condition your hair. You're eating right. You're doing all you can to look and feel great. But are you missing out on an important part of a healthier lifestyle?
No matter what your age or shape, you should exercise daily. Not only does exercise tone your body so you can wear your favorite jeans, it strengthens your muscles, keeps your bones strong, and improves your skin. And there are more benefits of exercise — increased relaxation, better sleep and mood, strong immune function, and more. Finding time to get adequate exercise properly isn't always easy. The Fitbella approach to wellness makes it easier than ever to get the most from a fitness program. By combining targeted movements in the Fitcapsule, nutrition and support from a Fitcoach, and using the Fitbath many women have successfully lost weight and inches, toned their muscles and increased the hydration and elasticity of their skin. Let's look at some of the incredible benefits of exercising in a Fitbella approach.
For some women, the thought of exercising can be overwhelming. That's what makes having a Fitcoach is invaluable. After a thorough initial evaluation, the Fitcoach will develop an exercise routine and nutrition plan just for you to help you target your trouble areas. Exercise should not be viewed as a one-size-fits-all activity. We're all different and come from various fitness levels; the Fitcoaches at Fitbella understand this and respect the individuality of every woman.
The Fitbella method is unlike any other fitness program available in the area. You execute a customized personal workout inside a Fitcapsule, under the instruction of a trained Fitcoach. The Fitcapsule is a large capsule heated to 98 degrees, maximizing the benefits of reshaping the body. Working closely with the Fitcoach, you complete a combination of targeted muscle movements while the warmth reactivates the metabolism in about 30 minutes. One 20-30 minute workout in the Fitcapsule is equivalent to about an hour-and-a-half at a regular gym.
The Fitcapsule helps increase circulation and in turn allows women to get the most out of exercising.
Your circulatory system is the river of life inside your body. Blood delivers oxygen and nutrients to your entire body, most importantly to your heart and brain, and also carries away toxins and waste. Keeping the blood flowing will improve your health and keep you feeling great. Exercise is crucial to heart and muscle health, as well as circulation.
Benefits of Increased Circulation
A Fitcoach can teach you certain exercises that are used to increase circulation. Increased circulation is important because it provides more oxygen throughout the body and can aid in toning muscles, and maintaining or losing weight.
Through specific exercises performed in the Fitcapsule, the increase of blood circulation and oxygen levels cause the metabolism to naturally speed up. The metabolism relies on the increased blood flow from exercise to supply oxygen and nutrients to the muscles. The metabolic rate stays high for a while after the customized, low impact Fitbella exercise routine. This routine also raises endorphin levels.
Exercise boosts delivery of nutrients to your skin, helping to detoxify the body by removing toxins (poisons). As exercise boosts oxygen to the skin, it also helps increase the natural production of collagen, the connective tissue that plumps skin. Your skin color is also improved after exercise because of the increase in blood flow. Believe it or not, certain exercises can reduce cellulite if you target the problem areas correctly. The Fitcoach can help you add these targeted exercises to your routine.
Following the workout, you relax in the Fitbath, a steam bath designed to detox, smooth, tighten and hydrate skin. Many women find that the Fitbath is calming and relaxing after completing their Fitcapsule workout.
Getting your body ready for peak beach season is never effortless, but it does not have to be complicated, and the hot bikini body you've been wishing for might be easier to achieve than you think with Fitbella. The personalized exercise and nutrition plan developed just for you by a Fitcoach is designed to target your trouble areas. Your plan will include specific exercise movements and foods that will help you achieve your fitness goals in no time! Following the Fitbella program will help you lose those unwanted pounds, tighten and tone those trouble areas, and reshape your body in time for you to hit the beaches and enjoy summer.
Fitbella is more than just a weight-loss method, it is a lifestyle. It is a natural healthy way for women to lose weight and be fit.
For more information about the Fitbella approach to total body wellness, contact Melissa Rabino at 775-0122 or email at pbg@fitbella.us.
Fitbella is located at 2401 PGA Blvd., Suite 128, Palm Beach Gardens, in the Harbour Financial Center. See fitbella.us, facebook.com/fitbellausa and on Twitter @fitbella_ usa.