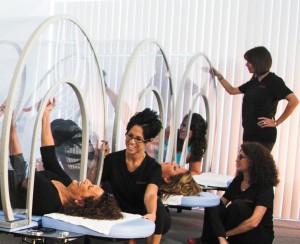 Waiting to be called for my doctor's appointment I picked up a copy of "The Health & Wellness Magazine."  As I flipped through the pages I noticed Fitbella's advertisement and an inspiring story. The story was about a young woman well on her way to achieving her fitness and weight loss goals. This immediately sparked my interest!  I hadn't been active in several years and was looking for a program that could be tailored to my needs.
At my initial consultation I learned about Fitbella's unique concept of attaining fitness and good health at any age, I knew this was definitely for me!  I am soon to be 70 years old and a 12 year breast cancer survivor.  All of my life I have been active, walking regularly, engaging in various exercise routines and training programs.  After developing a chronic back problem due to spinal stenosis I had to completely stop walking and exercising due to the pain, exercise only made it worse.  This was most distressing and depressing.  Although I had multiple MRIs over the years, I seemed to have been in denial about my back issues thinking it would "all go away."  Finally after the spine specialist's recommendation I knew that I must begin physical therapy program.
I began sessions at Fitbella prior to starting physical therapy.  After my initial meeting with the physical therapist I discussed my program at Fitbella.  He strongly suggested that I put "a hold" on the program until I was further evaluated and ultimately completed my physical therapy sessions.  When I explained this recommendation with my Fit Coaches, their understanding and support was tremendous and reassuring. My Coaches often called, during my time off, just to see how I was doing!
As I was nearing the end of my physical therapy program my therapist reviewed all the exercises I had begun at Fitbella.  He was very supportive and impressed by my program at FitBella; he encouraged me to get started again!
Upon my return to FitBella the Fit Coaches reviewed each and every exercise and modified some movements to meet my specific needs and limitations.  There is no impact with these exercises, which is exactly what I need with my back issues.  My personalized program incorporates many of the exercises and movements I used in physical therapy!
As far as scheduling, the Fit Coaches are always so helpful.  I am retired so my schedule is very flexible. A good thing for me, but my schedule can change day to day – My coaches are always understanding and accommodating.
I am so motivated to hit the gym … FitBella style.  In one hour I can work out, shower and then relax in the FitBath, leaving energized and feeling great!!  The atmosphere is unlike any exercise or training experience … warm, welcoming, supportive, and peaceful, it's spa-like!
My pain is virtually gone!  I have even begun walking again! My goals are to continue to gain strength which is vital with my back issues, to firm and tone my body, and maintain a healthy weight.  All important for me at age 70, which is really now only a number!
I have always been conscientious about good nutrition for myself and my family.  The fit coaches are helpful with suggestions they are very knowledgeable resources, opening the door to new options, fantastic recipes, and helpful tips.
Please take time to visit and explore this extraordinary fitness experience!  Once you do you will realize the tremendous benefits and the uniqueness of this program.  Remember how important you are……. make time for your good health and fitness.
Fitbella
561-775-0122
2401 PGA Blvd., Suite 128
Palm Beach Gardens Fl, 33410
Harbour Financial Center (Carmine's Plaza)