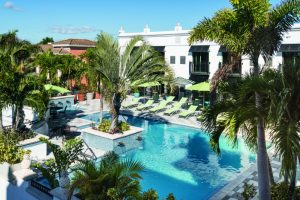 Located on Florida's Paradise Coast, Naples captivates visitors with an irresistible mix of soft, white sand beaches, beautiful scenery, colorful sunsets, thriving arts and culture, outdoor adventure, and world-renowned dining and shopping hotspots. Health, happiness and relaxation seem to come naturally in Naples, a city which has been ranked as the Happiest, Healthiest City in the U.S. for three consecutive years.* Not surprisingly, it is where countless weary travelers go to refuel, recharge and relax.
This summer, the vacation mecca will be the setting for the inaugural "ReNew You" wellness retreats, four all-inclusive, four-day experiences at the iconic Inn on Fifth & Club Level Suites, a four-diamond boutique hotel in the heart of downtown Naples. These unique retreats offer visitors a healthy array of curated experiences designed to invigorate, enlighten and inspire.
"We have seen increased interest in wellness-inspired travel, with a growing emphasis on mental focus and inner calm," said Cathy Christopher, Inn on Fifth director of sales and marketing. "Naples and The Inn on Fifth provide an ideal escape for those who want to focus on improving mind, body and soul, and this retreat perfectly packages that experience."
The ReNew You retreats invite attendees to savor deliciously healthy global cuisine, indulge in soothing spa treatments, relax deeply with meditation and yoga, and enjoy small group sessions with trainers, nutritionists, chefs, coaches and other healthy-living experts in Naples. Each day of the four-day retreat features programming that is educational, fun and inspirational, including walking tours, yoga in the park, poolside lunch-and-learn sessions, personal training in Tai chi, spa treatments and more. Included nightly dinners will showcase international cuisine at some of Naples' most popular restaurants, with insights from experts in a wide variety of culinary disciplines. There will also be plenty of time to relax, reflect or explore, with the option to end each day with a breathtaking sunset walk on the beach. Each experience takes place in an intimate setting to provide attendees easy access and ample opportunities to engage, ask questions, and learn on a personal level, so they emerge from the retreat renewed and better equipped to live more consciously.
Offered in four separate sessions in August and September, the four-day ReNew You wellness retreats start at just $985 per person, which includes four-night luxury accommodations at The Inn on Fifth; all retreat activities and programming, including yoga, meditation, tours, presentations and more;
10 meals featuring nutrient-rich, sustainably farmed, and locally sourced ingredients; spa treatments at The Spa on Fifth; healthy in-room snacks; and complimentary access to a private hospitality suite stocked with juices and nourishing treats.
For an additional charge, retreat guests may upgrade to the hotel's uber luxe Club Level Suites.
For session dates and more information on the ReNew You wellness retreats, including detailed information on daily itineraries, go to InnOnFifth.com/wellness.
* Gallup-Sharecare Well-Being Index