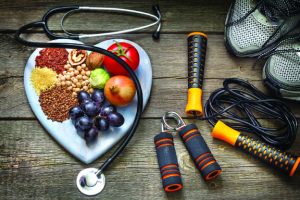 Functional Medicine & Anti-Aging can be very broad terms to most people and it can be hard to understand what services or procedures fall under these categories. As a physician, my background is in internal medicine. I spent years treating illness and sick patients. It was a constant circle of prescribing medications to treat patients who were battling disease. One pill at a time, every patient would leave with the latest drug therapy to combat diabetes, high cholesterol, hypertension, depression, insomnia and much more. At the same time my patients were asking me about services like Botox and lasers. So many people have asked me if I would start injecting in my practice because they would rather come to me. After my father passed away of lung cancer in 2001, I had decided it was time for a change. So that's when the concept was born, to develop a medical spa facility to offer functional & anti-aging medicine.
Functional Medicine is defined as the medical practice or treatments that focus on optimal functioning of the body and its organs, usually involving systems of holistic or alternative medicine.   It integrates traditional medicine with holistic means to keep an individual healthy rather than just treat symptoms. Most people are very health conscious these days and are becoming more and more informed of the magnitude of underlying causes of disease. There are many ways to prevent illness by taking a few steps to understand your biological makeup.  There are blood tests to identify deficiencies in vitamins and minerals, pinpoint specific food sensitivities, and measure imbalances in hormones. These tests can help us prevent and treat symptoms at the source. For example, if you are deficient in vitamin D or B vitamins, we are able to precisely determine case by case each individual person's needs. We no longer blindly recommend supplements and products that we think you should take. We now "know" exactly what your body is lacking.  In the past if a patient was depressed, then naturally they needed an anti- depressant, if they could not sleep, then they needed a sleeping pill, right? Now we have found that a person may be lacking a specific hormone in the body that may be the reason to keep one up at night and we can eliminate the need for prescription drugs by alternative therapies such as hormone therapy. Some of the treatments that are considered to be functional medicine are bio identical hormone therapy, iv vitamin therapy, food and allergy testing and micronutrient testing. So as I learned about these therapies, I started to incorporate them into my daily practice. Many of my patients no longer needed medications and began to feel better than ever before. I knew this was a turning point in my medical career.
Anti-Aging is defined as a product or technique to prevent the appearance of getting older. So then, how is it possible and what can we do? As the face ages it tends to lose elasticity and the firm support below the skin known as collagen and elastin. Our skin is exposed to environmental stressors pollution and sun damage.  We develop wrinkles around the face, including vertical lip lines, marionette lines, as the skin sags we develop jowles, the sun shines and brown spots appear. So, in society it is never been more in demand to look younger than today.
To look younger we can instantly fill in wrinkles, volumize cheeks, soften expression lines, zap brown spots away and even tighten the skin, all with no downtime. The treatments are safe and are for men and women.  The most common of the anti-aging injectables are Botox, Juvederm, Voluma and the newest filler Volbella for vertical lip lines around the lips.  Kybella is an injectable that dissolves fat under the chin. In terms of anti-aging lasers there is Ulthera skin tightening, Venus Legacy for skin tightening, ipl for brown spots and rosacea, sculpsure for noninvasive fat melting. As an aging woman of 50, I believe it is very satisfying to subtly enhance your appearance without looking like you have had any work done.  It boosts your confidence and makes you feel good about yourself.
These are exciting times where we as physicians in the functional, anti-aging and cosmetic industry, have more effective tools in our tool box to change people's health, appearance and basically their quality of life , than ever before. I am passionate about what I do and will continue my scientific approach to find the fountain of youth.
For more information regarding PRP and its uses, please contact 561-655-6325.
Or visit www.mdbeautylabs.com