By Dr. Kerri White –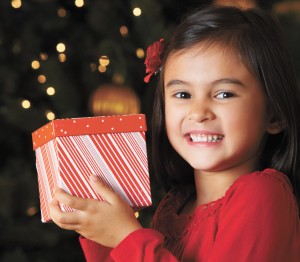 The Holidays are truly a wonderful time of the year!  We get to spend quality time with family and friends and reflect back on the things that mean the most to us.  Unfortunately, for some of the less fortunate, the holidays can be far from festive.  We thought we would highlight the wonderful charities we team up with so that you too can help spread the cheer.
Our office is hosting The Spirit of Giving Network Holiday Gift Drive, where you can come in to pick an ornament off of our "Giving Tree" to purchase a gift for a child in need and help provide over 4,000 gifts to needy children in Palm Beach County.   www.sognetwork.com/holidaygiftdrive
As a member of the Junior League of Boca Raton's Diaper Bank Committee,  we also need your help in collecting diaper donations (packs, boxes or even opened packages of Diapers-all sizes) that will be distributed to parents in need within our communities.  With your help we are able to support local agencies with over 250,000 diapers annually.  Without your help, a lot of little bottoms will be very unhappy this holiday season and with 1 in 4 families struggling to buy diapers in Palm Beach County the demand is great.  www.jlbrdiaperbank.org.
We also currently have our Give Back a Smile In-Office Whitening Charity. Whiten your teeth for charity-Venus One Hour In-office whitening for only $175.00(regularly $499) with 100% going to the charity Give Back A Smile that restores abuse survivors smiles at no charge who have suffered damage to their teeth from abuse.  Let your bright white holiday smile help others regain theirs!  For more info visit our website @www.whitesmilesofboca.com
One of the great things about the holidays is people coming together.  With your support we can make sure the most vulnerable in our communities are taken care of and have a happy holiday.  That is something we can all smile about!
Dr. Kerri White
Board of Trustee for American Academy of Cosmetic Dentistry
200 W. Palmetto Park Rd., Ste 103
561-395-4948
www.whitesmilesofboca.com