By Lee R. Cohen, D.D.S., M.S., M.S. –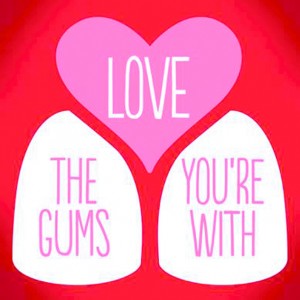 With one in every two adults age 30 and older suffering from periodontal disease (commonly referred to as gum disease), the American Academy of Periodontology (AAP) and its 8,300 members are calling for Americans to Love the Gums They're with. Periodontal disease can lead to receding gums, bone damage, loss of teeth, and can increase the risk of other health problems such as heart disease and diabetes. Despite its prevalence, periodontal disease is hardly ever discussed, resulting in a lack of urgency for people to properly care for their gums. Simple steps like brushing twice a day, flossing daily, and receiving an annual comprehensive periodontal evaluation from a periodontist can help detect and prevent gum disease.
Periodontal disease is an inflammatory condition that, if left untreated, may cause damage to the tissues and bone surrounding the teeth, eventually leading to tooth loss. According to the Centers for Disease Control and Prevention, 64.7 million Americans are affected by periodontal disease. In addition to diabetes, periodontal disease has been linked to other chronic diseases, including cardiovascular disease, rheumatoid arthritis, Alzheimer's disease, and even cancer.
Periodontal disease typically does not cause pain until it's in an advanced stage, at which point much of the damage has been done and tooth support destroyed. To raise awareness and to help health consumers better understand periodontal disease, the AAP has teamed up with TV personality Chris Harrison to help educate the public about the importance of gum disease and its impact on your overall health. As host of ABC's "The Bachelor," Chris knows that first impressions are important in successful relationships. Just as personal relationships thrive on daily attention and care, so does the relationship with your gums.
About Periodontal Disease
Periodontal disease is caused by bacteria in the mouth that form plaque below the gum line. There are more than 500 bacterial species that can be found in plaque.  Tooth brushing alone does not remove the bacteria that live below the gum line. Poor oral hygiene is one cause of periodontal disease, but smoking is also a significant risk factor in the development and progression of the disease. While periodontal disease is mostly preventable and treatable, the early warning signs can be painless. This lack of warning makes it necessary for individuals to establish strong oral hygiene habits and to discuss their periodontal health with a dental professional. With an appropriate diagnosis, the damage from periodontal disease may be reversible in some cases.
What You Can Do
To aid in the prevention of periodontal disease, we recommend establishing good oral hygiene habits including brushing at least twice a day and flossing daily.  To learn more, you can take a brief quiz on perio.org to evaluate the current state of your gum health, learn the signs and symptoms of periodontal disease and receive tips on how to properly care for your gums. A Periodontist — a dentist who specializes in the prevention, diagnosis and treatment of periodontal disease — can provide a comprehensive periodontal evaluation and specialized periodontal treatment plan to help support a  life-long commitment to healthy gums.  Fear is often a major factor in patients avoiding caring for their gums.  Painless options are available to help address many forms of this disease.  An example of this type of treatment is Laser Periodontal Therapy which requires no cutting, scalpel or sutures.  A comprehensive periodontal evaluation is painless and can provide you with a good understanding of your gum's health.
Lee R. Cohen, D.D.S., M.S., M.S., is a Dual Board Certified Periodontal and Dental Implant Surgeon.  He is a graduate of Emory University and New York University College of Dentistry. Dr. Cohen completed his surgical training at the University of Florida / Shands Hospital in Gainesville, Florida.  He served as Chief Resident and currently holds a staff appointment as a Clinical Associate Professor in the Department of Periodontics and Dental Implantology.  Dr. Cohen lectures, teaches and performs clinical research on topics related to his surgical specialty.
The focus of his interests are conservative approaches to treating gum, bone and tooth loss.  He utilizes advanced techniques including the use of the Periolase Dental Laser (LANAP procedure) to help save teeth and treat periodontal disease without the use of traditional surgical procedures.  Additionally, he uses in-office, state of the art 3D CT imaging to develop the least invasive dental implant and bone regeneration treatment options.  Dr. Cohen and his facility are state certified to perform both IV and Oral Sedation procedures.  Botox® and Dermal Fillers are also utilized to enhance patients' cosmetic outcomes.
Dr. Cohen currently serves on the Board of Trustees for the American Academy of Periodontology and formerly the Florida Dental Association.  He is past president of the Florida Association of Periodontists and the Atlantic Coast District Dental Association.  Dr. Cohen is a member of the American Academy of Facial Esthetics.  In addition, he has been awarded Fellowship in the American College of Dentists, International College of Dentists and the Pierre Fauchard Academy.
Lee R. Cohen, D.D.S., M.S., M.S.
4520 Donald Ross Road, Suite 110
Palm Beach Gardens, FL 33418
Phone: 561-691-0020
www.pbcperio.com