By Lee R. Cohen, D.D.S., M.S., M.S. –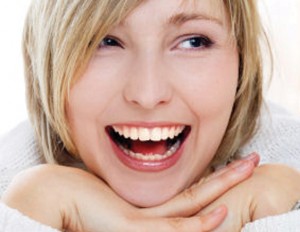 Gingival (gum) recession is very common in our adult population.  There are many factors that lead to
this problem including genetics (thanks mom and dad), habits (such as smoking), improper oral hygiene techniques, previous orthodontic therapy (tooth movement), excessive biting forces and insufficient visits to the dentist for professional oral health maintenance appointments.
To understand how recession occurs, we must be aware of the basic structures in our mouth. Our teeth are held in the jaw by the surrounding bony support. Our gum tissue surrounds this bone. This gum tissue is broken into two types: Thick (like the tissue on the roof of our mouths) and thin (like the lining on the inside of our cheeks). The thick tissue is the protective lining that helps prevent or slow gum loss. As recession occurs, we lose this thick tissue first. Once the recession reaches the thin tissue, recession usually continues at a more rapid rate. As the gum is lost, the underlying bone is exposed and subsequently goes away as well.
Problems Related to Gum Recession:
The loss of both the gum and bone around our teeth can lead to significant problems. The following are examples of issues that typically can occur over time:
Tooth Loss: As the gum and bone disappear, a tooth will become loose and ultimately be lost. Tooth loss can lead to shifting of the remaining teeth or problems chewing.
Root Cavities: The crowns of our teeth have enamel to shield us from cavities. Our roots do not have this protection and when exposed are more prone to decay. Root decay tends to progress more rapidly and ultimately may penetrate the nerve requiring root canal therapy.
Sensitivity: Exposed roots tend to be more sensitive to hot or cold. You may notice this when drinking hot coffee or eating ice cream.
Esthetics: Many individuals do not like the appearance of being "long in the tooth."
Goals of Treatment:
The best option is always to treat the disease in the early stage before too much gum or bone tissue is lost. If we can slow or stop this continual loss of hard and soft tissue structure then we help prevent the problems listed above. Our primary treatment goals are as follows:
Develop a Thick Band of Gum Tissue: By developing thicker gum tissue in the affected areas, we typically are able to slow or stop the progression of the tissue loss. Remember, our thicker tissues (similar to the roof of the mouth) are the ones that help us prevent the gum and bone from going away.
Cover the Roots with Tissue: In some situations, we are able to bring the gum level back to its previous position prior to when it receded.
Treatment Options:
There are a number of treatment techniques at our disposal to help you both slow or stop the continuation of your gum and bone loss. These "soft tissue grafting" procedures utilize your own tissue or a donor tissue. Typically, treatment recommendations will vary based on the severity of the disease and how extensive it is in your mouth. A complete periodontal evaluation and set of recent dental x-rays are all that is needed to determine if you require treatment and which option would be best suited for your situation.
If you notice any amount of gum loss, it is important to have be evaluated and seek treatment as soon as possible to prevent further gum loss and possible tooth loss.
Lee R. Cohen, D.D.S., M.S., M.S.
Lee R. Cohen, D.D.S., M.S., M.S., is a Dual Board Certified Periodontal and Dental Implant Surgeon. He is a graduate of Emory University and New York University College of Dentistry. Dr. Cohen completed his surgical training at the University of Florida / Shands Hospital in Gainesville, Florida. He served as Chief Resident and currently holds a staff appointment as a Clinical Associate Professor in the Department of Periodontics and Dental Implantology. Dr. Cohen lectures, teaches and performs clinical research on topics related to his surgical specialty.
The focus of his interests are conservative approaches to treating gum, bone and tooth loss. He utilizes advanced techniques including the use of the Periolase Dental Laser (LANAP procedure) to help save teeth and treat periodontal disease without the use of traditional surgical procedures. Additionally, he uses in-office, state of the art 3D CT imaging to develop the least invasive dental implant and bone regeneration treatment options. Dr. Cohen and his facility are state certified to perform both IV and Oral Sedation procedures.
Dr. Cohen currently serves on the Board of Trustees for the American Academy of Periodontology and the Florida Dental Association. He is past president of the Florida Association of Periodontists and the Atlantic Coast District Dental Association. In addition, Dr. Cohen has been awarded Fellowship in the American College of Dentists, International College of Dentists and the Pierre Fauchard Academy.
Lee R. Cohen, D.D.S., M.S., M.S.
4520 Donald Ross Road, Suite 110
Palm Beach Gardens, FL 33418
Phone: 561-691-0020
www.pbcperio.com