By Dr. Alan J. Bauman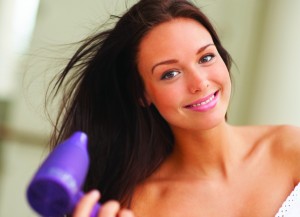 Are you tired of fighting frizz? Do you constantly struggle with split ends and breakage? Is your hair care regimen putting your locks at risk of damage, and possibly even hair loss?
If the answer to any of these questions is yes, it may be time to do something nice for your hair. Instead of ignoring these red flags, give your hair the nourishment and support it needs to grow strong and healthy.
In the spirit of Thanksgiving, here are four hair care tips that will leave our hair saying "thank you."
• Stop Over-Styling – That super hot blow dryer or that flat iron used over and over again can degrade the proteins that make up your hair and it's protective cuticle. Once the protective cuticle is damaged, moisture balance is disrupted and the hair is more prone to breakage. Heat degrades the proteins that make up the structure of your hair and because hair does not self-repair, once the damage is done – it's done. So if you want to you're your hair, turn down the heat or say 'no' to the compulsive flat ironing to protect your hair from thermal damage. Products like Pantene Thermal Protection and Shine Spray can be helpful in decreasing friction and improving shine. Harsh chemicals are another risk to your hair. Many consumers don't realize that chemicals like bleaches and dyes fundamentally change the structure of your hair, making it weaker and more susceptible to breakage and damage. Overusing these treatments can lead to severe breakage, a common cause of loss of hair volume.
• Feed Your Hair – It may seem unrelated, but what you eat, or don't eat, has a huge impact on the health of our hair. A diet rich in whole foods, especially protein, is essential to achieving, and maintaining, healthy hair, while on the flipside, caloric, iron and protein deficiencies are among the most common nutritional triggers for unhealthy hair. Vitamins, especially of the vitamin B family and biotin (Vitamin H), are important to the overall health of your hair and preventing hair loss and thinning. Try to incorporate these hair 'super-foods' into your diet more frequently, salmon, which is loaded with omega-3 fatty acid, dark green vegetables for vitamins A and C, and nuts, which are a terrific source of zinc. If you can stomach it, liver is one of the best foods for your hair.
• Give Your Hair a Boost – Many women take calcium or other supplements to protect their bone health as they age – and the same is true for certain hair supplements. Nutritional supplements like the fish protein-based Viviscal Pro and pharmaceutical-grade Biotin can boost the vitality of your hair. Another way to say "thank you" to your hair is with LaserCap low-level laser therapy—a non-chemical way to boost hair growth without side effects.
• Plan Ahead – The most common cause of thinner, less voluminous hair is genetics. So how can you tell you have the hair loss gene? Today, with a simple swab of the cheek, you can accurately determine your chances of going bald later in life. Genetic tests, like HairDX, can assess how hair loss will affect you, and how you may respond to treatments. This information is invaluable to patients at high-risk for hair loss because it gives them the opportunity to take proactive role in preventative care, which can help reduce the long-term damage.
No one likes having a bad hair day, but if you find the right hair care regimen and follow it regularly you will find they will be fewer and farther between. Luscious locks are easy – if you follow the right steps! From eating right, to finding the right styling regimen, or laser therapy treatments, there are a lot of great things you can do for your hair. The first steps to healthier hair is to assess the current state of your hair, identify any problems or risk factors, then create a plan of action to get your hair back on track. For some, this is as simple as a shampoo change or daily vitamin supplement, for others, a professional medical consultation from a hair loss specialist is needed to get to the root of the problem.
About Dr. Alan J. Bauman, M.D.
Dr. Alan J. Bauman is the Founder and Medical Director of Bauman Medical Group in Boca Raton, Florida. Since 1997, he has treated nearly 15,000 hair loss patients and performed nearly 7,000 hair transplant pro-
cedures. A international lecturer and frequent faculty member of major medical conferences, Dr. Bauman's work has been featured in prestigious media outlets such as The Doctors Show, CNN, NBC Today, ABC Good Morning America, CBS Early Show, Men's Health, The New York Times, Women's Health, The Wall Street Journal, Newsweek, Dateline NBC, FOX News, MSNBC, Vogue, Allure, Harpers Bazaar and more. A minimally-invasive hair transplant pioneer, in 2008 Dr. Bauman became the first ABHRS-certified Hair Restoration Physician to routinely use NeoGraft FUE for hair transplant procedures.
Hair Loss Study Candidates Needed!
Bauman Medical is currently enrolling qualified candidates for an exciting Hair Loss Study.
Please visit www.844GETHAIR.COM for more details.