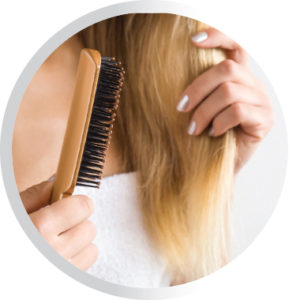 Whether it's because of stress, genetics, hormones, chemotherapy, alopecia, etc., hair loss can seem like the end of the world for many. Humans have around 100,000 hair follicles and usually shed about 60-100 hairs per day. If you're experiencing hair loss beyond the norm, check out the following solutions that are available to you whether you're at the beginning stages of hair loss or experiencing total hair loss.
Scalp Treatments – The first sign of hair loss is gradual thinning of the follicles along the hairline. For men, it's often a receding hairline that begins at the temples. For women, it's common to see a wider part where the hair has become thinner. An invigorating scalp treatment using a stimulating scrubber and deep cleansing products helps to strengthen the hair root for healthier & stronger hair growth.
Hair Extensions – When your hair loss has gone to the next level, where there's a dramatic change in hair thickness and fullness, then it's time to transition from scalp treatments to hair extensions that will provide a naturally thicker appearance. For those with thinner hair, it's best to do individual keratin tip extensions with a cold fusion machine to avoid further damage or hair loss. Look for 100% human hair that's double drawn to get the best out of your extensions.
Non-Surgical Hair Replacement – Now, when you've gotten to the point where you're experiencing total hair loss, then your best bet would be to try a non-surgical hair replacement system. These uniquely designed hair effects will provide you with a natural looking, full head of hair that fits your individual style. With different bonding methods and attachment styles, you'll be confident that your specific needs will be accommodated.
It's natural to see strands of hair stuck in your brush or at the drain of your shower, but when it becomes excessive, clumps of hair falling out at once, then it's time to get it checked out or fixed. The cause for your hair loss may be because of genetics or stress, diseases or vitamin deficiency, maybe even over-styling, and the devastation of losing your hair can affect your lifestyle in more ways than one. Once you've discovered the root of the problem, then you can use one of the techniques we mentioned above to fix it. Whether it's minor hair loss or total hair loss, there is always a solution.
Learn more about our non-surgical hair replacement solutions by visiting
Facebook.com/thesalonatnewimage/
or call 561-253-3007
The Salon at N
1501 Northpoint Parkway,
Suite 100 West Palm Beach, FL 33407
Phone: 561-253-3007
Email: salon@newimagelabs.com