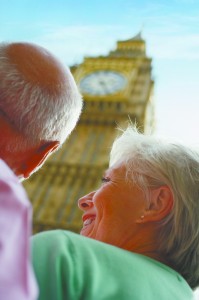 Going somewhere this summer? The point of a vacation is to relax, not stress, but hearing loss can sometimes get in the way of your mental detox. So plan ahead: check what accommodations for individuals with hearing loss exist at your hotel or resort, with your travel arrangements and the attractions at your destination. Proper preparation and advance research will reduce the time and effort you spend on your hearing loss so you can focus on your tan instead.
Where to stay
The Americans with Disabilities Act requires hotels to have rooms equipped with special fixtures for those with hearing loss, including telephones and smoke detectors with visual elements, TV induction loops and video relay or teletype services both in-suite and through their customer service department. These rooms are limited, however, so be sure to call ahead and ask if one is available. Also ask about any other features or services the hotel offers; while many times they only offer the minimum requirements, some hotels have surprisingly comprehensive packages for customers with hearing loss and those with other disabilities.
What to pack
Always be prepared for the worst case scenario. While your hotel room may be equipped with proper hearing-impaired elements, that doesn't mean they will always be in working order. Make a checklist of your essentials when packing your suitcase, especially if you wear a hearing aid:
. Extra set of hearing aid batteries
. Hearing aid storage/drying container
. Hearing aid cleaning kit
. Hearing aid accessories, like a splash guard, wind protector or sport clip
. Vibrating alarm clock (so you don't wake up late for your flight)
Getting there
Whether you're navigating the maze of the airport terminal or the pushy crowd in a subway station, hearing loss can complicate matters when you're on a deadline in unfamiliar territory. Public transportation systems offer many features for the hearing impaired. The DC metro, for instance, features flashing lights on the platform when a train is approaching, and electronic signs inside each car to indicate the next stop. For their customers with hearing loss, Amtrak offers a 15 percent discount and additional assistance in the station and on the train. Airlines like Southwest offer a 24-hour teletype customer service line, as well as teletype phones in all the airports they service.
Enjoying your stay
Now that you're here, it's time to have some fun! Scout out some good activities and restaurant/
bars that are hearing loss-friendly. Are you into theatre? Check for any live productions that might be playing in a looped auditorium nearby. Are you vacationing on the water? Be sure to use that hearing aid wind protector or that splash guard when you're parasailing.
Dining
Restaurants and bars can be a particular problem because of the constant background noise. Open kitchens, clattering dishes, TVs, music and the surrounding crowd all make it difficult to focus on the person in front of you. Scout out some quiet cafes in the area, or any establishments with an outdoor space that might offer a little bit of isolation for you and your friends or family.
And, of course, remember to have fun! Being your own advocate can make a huge difference in the quality of your vacation. Be sure to let people know about your hearing loss so they can accommodate you as best as possible. If you take a little time to research your trip before you go, you'll save a lot of time once you get there.
For more information on hearing loss, visit www.hearusa.com