By Tamara-Kay Tibby, DMD, MPH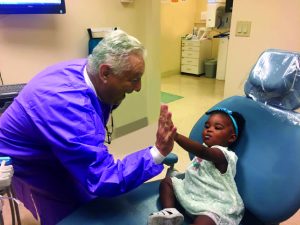 Did you know that your child's oral health and dietary habits set the tone for their lifelong dental health? That's why it's important to establish healthy dental habits like proper brushing, flossing, a healthy diet and regular use of preventive dental services. Many parents are unsure of the best way to take care of their child's teeth so here are some useful recommendations from the American Academy of Pediatric Dentistry (AAPD).
1. Establish a dental home within six months of eruption of the first tooth and no later than age one. The easiest way to remember is to follow this rule: first tooth, first birthday, first dental visit. Parents need to care for their baby's teeth as soon as the first tooth appears, which is usually around six months of age. The age one dental visit reduces costs down the line and the need for future dental procedures.
2. Avoid frequent consumption of liquids and/or solid foods containing sugar, in particular:  
• Sugar-sweetened beverages (e.g., juices, soft drinks, sports drinks, sweetened tea) in a baby bottle, sippy cup, or no-spill training cup.
• At will breastfeeding after the first baby tooth begins to erupt and other dietary carbohydrates are introduced.
• Baby bottle use after 12-18 months.
New 2017 guidelines from the American Academy of Pediatrics (AAP) advise parents that children should not be given fruit juice before they are one year old unless recommended by a doctor.
3. Parents should start cleaning their child's mouth at the sign of the first primary tooth. Toothbrushing should be performed for children by a parent twice daily, using a soft toothbrush of age-appropriate size. In children under three, a smear or rice-sized amount of fluoridated toothpaste should be used. In children ages three to six, a pea-sized amount of fluoridated toothpaste should be used.
4. Parent's oral health affects their child. The bacteria that causes cavities can be passed from parent or caregiver to the child through saliva and is affected by the frequency and amount of exposure. It is best to avoid sharing your germs with your child. Parents who have untreated caries, are at greater risk of passing on the bacteria to their child.
Though the prevalence and severity of tooth decay has declined among school-aged children in recent years, it remains a significant problem in some populations, particularly among certain racial and ethnic groups and low-income children.
According to the Centers for Disease Control and Prevention, about 20 percent of children ages five to 11 have at least one untreated cavity. Nationally, tooth decay, known by dental professionals as dental caries, is the most common childhood disease. Left untreated, tooth decay can cause pain and infections that may lead to problems with eating, speaking and learning. It's heartbreaking to pull the teeth of a young child when we know that dental caries is preventable.
How easy is it to find a pediatric dentist? Access to quality pediatric dental care is important, especially in the Sunshine State. According to a 2015 report by the U.S. Department of Health and Human Services, Florida ranked 50th out of 51 states and the District of Columbia in the percentage of Medicaid-enrolled children receiving preventive dental care. Federally Qualified Health Centers like the C. L. Brumback Primary Care Clinics in Palm Beach County are located throughout the county to provide medical and dental services to all children, with or without insurance. New parents should not delay in finding a pediatric dentist to provide quality, compassionate dental services for their baby. Ensuring a child has a head start on a healthy smile is a gift that will last a lifetime.
Tamara-Kay Tibby, DMD, MPH, is the Dental Director for the C. L. Brumback Primary Care Clinics, Federally Qualified Health Centers that are owned and operated by the Health Care District of Palm Beach County. Dr. Tibby oversees four dental clinic sites in West Palm Beach, Lantana, Delray Beach and Belle Glade. A practicing dentist for 15 years, Dr. Tibby is board certified in the areas of Pediatric Dentistry and Public Health. She is committed to promoting good oral health as a component of overall health.
Dr. Tibby graduated from Duke University in Durham, North Carolina and earned her Doctor of Dental Medicine degree from the University of Florida College of Dentistry in Gainesville. She completed a pediatric dentistry residency at Harvard University/Boston Children's Hospital in Massachusetts. Dr. Tibby also holds a Master of Public Health from the University of South Florida in Tampa.
Dr. Tibby, who is fluent in English and Spanish, participates in the Palm Beach County Oral Health Coalition and the Florida Oral Health Alliance. Her professional affiliations include the American Academy of Pediatric Dentistry, the College of Diplomates of the American Board of Pediatric Dentistry and the University of Florida Academy of Alumni and Friends.
Health Care District
2601 10th Avenue North; Suite 100
Palm Springs, Florida 33461
(561) 804-5975
www.hcdpbc.org