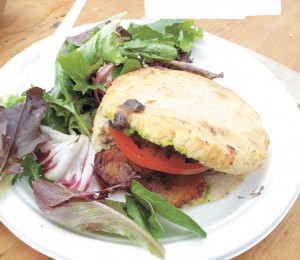 With the wide range of ad campaigns, scientific marketing, and conflicting studies, the term "healthy," is one that's been met with a lot of ambiguity and confusion over the years.  At Whole Foods Market, we aim to create an easy, comprehensive experience using our Health Starts Here program. This program was created by a board of doctors and includes far more food than it excludes, encouraging a truly healthy and practical style of eating. We follow four simple pillars:
1.    Plant-Strong
2.    Whole Foods
3.    Healthy Fats
4.    Nutrient Dense
Whole Foods Market knows that support is the key to maintaining any sort of healthy lifestyle. This is why each store in the Florida region has a designated "Healthy Eating Specialist," an in-store point person who can help you achieve your personal health goals through a program that works for you, your body, and your lifestyle. We offer monthly cooking classes as well as store tours to make the transition to health as painless as possible.
Vegan Arepas
Makes Five Arepas Ingredients:
1 cup dry polenta
2 1/2 cups water
1 cup fresh basil
1 tblsp dried parsley
1 tblsp dried oregano
1/2 tblsp rosemary
1 tblsp garlic powder
2 tblsps onion powder
2 tblsps Bragg's Liquid Aminos
1 tsp Bragg's Apple Cider Vinegar
10 cherry hierloom tomatoes
2 cups baby kale
2 cups baby arugula
1/2 sliced, caramelized onion
1 bulb of roasted garlic
Cheese sauce:
1 cup cashews
1 /2 cup unsweetened almond milk
1 tblsp Dijon mustard
1 tblsp Bragg's Liquid Aminos
Sprinkle of cayenne pepper to taste
Blended together until smooth
Instructions:
-Slice off top of garlic bulb and cover with tinfoil.
-Put garlic in the oven at 400 degrees until baked and soft.
-Peel and mash with a fork until you get a chunky paste.
-Bring water to a boil in a medium-large pot and add polenta.
-Add seasonings, basil, Bragg's, and apple cider vinegar to pot.
-Mix for about five minutes
-Spread a thin layer (1/2″ or so) on a large baking sheet, let cool,
and refrigerate for 1/2 hour.
-Sauté onions until brown.
-Add greens to pan and let wilt.
Remove pan from refrigerator and cut out circles of polenta using a cup.
Get two circles.
On one circle, spread garlic, on the other, spread cheese sauce, greens,
onions, and tomatoes.
Make into sandwich form and bake for ½ hr.