By: Dana Luzon, Au.D., FAAA
Board Certified Doctor of Audiology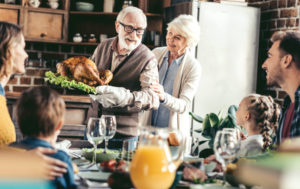 Holiday season brings friends and family members together to celebrate and connect with each other. If you or someone you love is experiencing hearing difficulty, you might find these family gatherings frustrating instead of treasuring this time together. Hearing loss effects not just the ears, but brings on so many emotions including embarrassment and frustration when you are unable to participate in conversation with your loved ones. Family members express the same concerns when trying to communicate with their loved one who is having the difficulty. Hearing loss in the third most common health problem in the United States, and can affect anyone at any age. Untreated hearing loss has been associated with depression, isolation, and cognitive decline. Sadly, most people wait at least 7 years to treat it. Now is the time to do something about it!
Hearing testing is simple and painless. At Audiology and Hearing Aids of the Palm Beaches, we take a concierge approach to hearing care. We work closely with you to make sure we meet all of your hearing healthcare needs. If you are diagnosed with hearing loss, we work with you and your family to set goals for your hearing treatment. We follow your progress during a 75-day retraining period to make sure you are comfortable with how you are hearing and make sure those devices are meeting your listening needs. Included with the treatment plan are 3 years of office visits, 3-year manufacturer warranty including loss insurance, free batteries for the life of the devices and a home for your hearing healthcare.
When it comes to purchasing hearing devices, most patients see it as a "retail purchase" where buying the hearing aid is all they think they need, and some think they can be bought off the shelf. But, a hearing aid does not work without a trained professional to set up that aid, teach you how to use it and manipulate it specifically for you and the listening environments that are most important to you. Hearing loss is a health problem, requiring a health care professional to treat it. Because hearing devices by themselves are not effective, they are not calibrated automatically. Hearing devices are not "one size fits all". The ability to integrate your devices with your lifestyle is essential to achieving better hearing and a Doctor of Audiology is the most qualified, trained professional to do this. Investment in better hearing should be measured by the results you experience every day.
Come in to Audiology & Hearing Aids of the Palm Beaches during the month of December and we will have you hearing better this holiday season! Just because hearing loss is common, doesn't mean it shouldn't be treated as soon as possible. Why wait to improve your quality of life, be engaged in group and family conversation, and love the way you hear this year!
Dana Luzon,
Au. D. , FAA,
Doctor of Audiology
Originally from Southern NJ, Dana Luzon
received her undergraduate degree in Speech Pathology and Audiology from the Richard Stockton College of NJ, and continued on to receive her Doctorate of Audiology at Salus University's residential program. Her varied clinical experiences throughout her doctoral studies include: VA hospitals, rehabilitation clinics, ENT and private practice settings. Her professional interests include: audiologic rehabilitation and progressive tinnitus devices. Her interests in the field outside of the clinic include: Humanitarian Audiology, and Audiology Awareness. Dr. Luzon currently lives in West Palm Beach, FL.
Audiology and Hearing Aids  of the Palm Beaches
561. 627. 3552
4266 Northlake Blvd
Palm Beach Gardens,  FL 33410
HearingCareFL.com