An A+ Rated Accredited Better Business Bureau Company
YOUR PATH TO BECOMING CLINICALLY NON-DIABETIC
Exclusively licensed through Magnum Health Management, LLC
www.MagnumHealthMgmt.com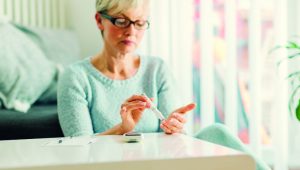 There is No Cure for Type 2 Diabetes – however it can be reversed! The 'Help Your Diabetes' (HYD®) Program will reverse Type 2 Diabetes and have you clinically non-diabetic and off all or most of your harmful medications in as little as 2 to 6 months!If you are one of more than 27 million Americans with
Type 2 Diabetes or one of 86 million Americans diagnosed as Pre-Diabetic then the HYD® program is for YOU!
Type 2 Diabetes is a growing problem that is not going away! Sedentary lifestyle, lack of regular exercise, diet loaded with convenient fast food, sugary drinks and a new generation of couch potatoes who spend increasingly more time on the smartphone means that now more than ever, Type 2 Diabetes is on the rise.
Help Your Diabetes® HYD® is the patent-pending, Type 2 Diabetes Reversal Program founded by
Dr. J. Murray Hockings, D.C., D. P Sc., a member of The American Diabetes Association (ADA).
An internationally acclaimed author and spokesman; Dr. Hockings has been helping thousands of patients reverse their Type 2 Diabetes, lose weight via proven natural methods, drop their blood sugar readings, enjoy an improved quality of life, and get people off harmful medications – which only serve to manage symptoms and cannot reverse them.
Medical Schools train student doctors how to manage Type 2 Diabetes – but not how it can be reversed! They prescribe often costly medications aimed at lowering one's A1C.
As the symptoms worsen they refer patients to a Specialist who may prescribe additional or different medications – increasing the dosage and/or varying the drugs over time.
Drugs prescribed to treat Type 2 Diabetes just manage the symptoms by lowering A1C and blood sugar, but can do little to prevent this horrific disease from progressing and in many cases leading to neuropathy, loss of eyesight, amputation of limbs or to kidney failure; which necessitates harmful dialysis for the rest of their life.
Pharmaceutical manufacturers must by law, disclose the potential dangerous side effects of all medications prescribed to treat Type 2 Diabetes. Their drug's long-term effect is potentially AS dangerous to the patient as is the disease itself! Diabetes drugs are also very expensive for the patient, earning pharmaceutical manufacturers hundreds of billions of dollars annually!
List of Benefits of The Help
Your Diabetes Program
Before and After Lab Analysis
Proprietary Nutritional Supplements to take
Exercise Recommendations or work with our
In-House Diabetes Certified Personal Trainer
Unlimited One on One Phone or Email Support 7 Days a Week to Monitor your Progress
Facebook Group to Share Success Stories,
Swap Recipes, Etc.
Group Phone Support Calls 3 Days a Week
Weekly training videos to keep you on track
A monthly HYD newsletter
Enjoy/Avoid List of Foods
Proprietary Weekly Meal Plans
Over 200 Recipes
Grocery Shopping List
Exclusive Membership in the HYD Website
Noticeable improvement in as little as one week! HYD® patients can reverse their Type 2 Diabetes safely, lose excess weight, need far less or no medications, regain energy and enjoy improved quality and vitality in their daily life.
Dr. Kenneth Power, M.D. a family doctor in Maumee, Ohio, with 18 years of experience, has recommended the Help Your Diabetes® program to his patients: "The success I've had with the program has been overwhelming. I've had multiple patients come through now and each tend to have a different success rate, but overall, it's been phenomenal. Patients see results right away.
I was surprised at how quickly their blood sugar's improved, usually within just the first couple of weeks. Their health's improving, their blood sugars are dropping, and I feel comfortable just after the first several weeks with getting them off at least half of their medication by then."
Help Your Diabetes®
Official Celebrity Spokesman:
The official spokesman for the Help Your Diabetes® program is Emmy and Golden Globe nominated actor, Corbin Bernsen, best known for his role as divorce attorney Arnie Becker on the NBC drama series L. A. Law
and star of such films as Major League. [Note: set copy alongside the image of Corbin Bernsen)
Please contact our office to book your Free, No Obligation Consultation
During your visit you can expect to receive: FREE A1C Test, No Blood Draw needed, just a simple finger prick with results in 5 minutes
FREE Diabetic Reversal Video Presentation
FREE Diabetic Assessment and Score
Appointments Necessary, evenings and weekends available upon request.
Call 561.506.2569
today to meet with our Clinic Director at:
HELP YOUR DIABETES
301 Yamato Road, Suite 1240, Boca Raton, FL 33431