By: Dana Luzon, Au.D., FAAA. Board-Certified Doctor of Audiology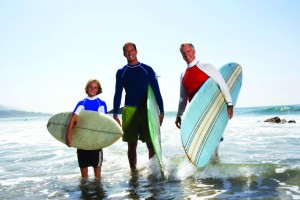 From surfing, boating, and swimming to kiteboarding, kayaking, and fishing, summer marks the sweet spot for water sports, pool parties, and time at the beach.
Your hearing aids help you make the most of the season – enjoying adventures and making memories – so it's important to protect them harmful elements such as moisture, sand, and heat.
Whether you're playing Marco Polo, setting sail, or just catching some sun in the sand, following a few hearing aid maintenance tips can help you keep the fun at hand.
WATER, SAND, AND HEARING AIDS don't mix. Wiping your devices daily with a clean, dry cloth helps clear moisture and debris and reduces the risk of damage.
SUMMER HEAT can do a number on your hearing aids,
so pick a cool, dry spot for storage, and avoid leaving the devices in a hot car.
WATER-RESISTANT HEARING AIDS aren't waterproof.
They can get damaged when immersed, so be sure to take them out before swimming or shower.
HEARING AID COVERS help protect your devices from water splashes and keep out dust and dirt, too.
A HEARING AID DRYER OR DEHUMIDIFER not only dries and sanitizes your devices as you sleep but can also double as their regular storage container.
BATTERIES NEED A BREAK, so at night remove them from your devices and leave the batter door open, helping reduce moisture and maximize battery life.
KEEP A HAT NEARBY in case an unexpected rain shower crashes your beach party. It'll help keep the rain off you as well as your hearing aids.
SEE YOUR AUDIOLOGIST for maintenance advice tailored to your summer plans or have your hearing aids professionally cleaned and checked.
Summer fun is for everyone, so don't sit out your favorite waves because of your hearing aids. Think of them as you would your cell phone, keeping them safe from harm's way, and enjoy your best season ever.
Dana Luzon, Au. D. , FAA, Doctor of Audiology
Originally from Southern NJ, Dana Luzon received her undergraduate degree in Speech Pathology and Audiology from the Richard Stockton College of NJ, and continued on to receive her Doctorate of Audiology at Salus University's residential program. Her varied clinical experiences throughout her doctoral studies include: VA hospitals, rehabilitation clinics, ENT and private practice settings. Her professional interests include: audiologic rehabilitation and progressive tinnitus devices. Her interests in the field outside of the clinic include: Humanitarian Audiology, and Audiology Awareness. Dr. Luzon currently lives in West Palm Beach, FL.
Audiology & Hearing Aids
561. 627. 3552
4266 Northlake Blvd
Palm Beach Gardens,  FL 33410
HearingCareFL.com