By Dr. Alan J. Bauman, MD, ABHRS Board-Certified Hair Restoration Physician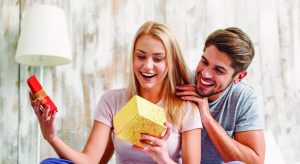 As we come into the holiday season, it's likely you'll find yourself looking for fresh and creative gift ideas for the special people in your life. Now, if you're like me, then you likely feel that the best gifts for "someone who has everything" are the kind of gifts that your special someone probably wouldn't buy for himself or herself.
So allow me to make an unconventional suggestion: How about giving the gift of hair this year?
Yes, you read that correctly. Hair. You see, as a physician specializing in Hair Restoration, I can attest to the fact that many patients are reluctant to pursue the many hair loss treatment options available simply because they either don't know the many options or they don't want to seem vain. This is especially true of male patients, but can be true of female patients as well. It's just human nature.
And it's not about vanity. Studies have shown that people who suffer from hair loss are more likely to experience social anxiety and a drop in self-esteem that can lead to depression and a whole slew of related health problems. When you think about it, it's kind of silly that we are more likely to give someone the gift of a new sweater, tie or dress than we are to give a hair treatment that will make them feel better about themselves no matter what they wear…and have that gift give for the rest of their lives!
So, let me offer some gift ideas that can really make a difference in the lives of your loved ones.
Hair and Scalp Consultation
Of course, every patient is unique, so the only way to be certain which treatment option will work best is to schedule a consultation with a board certified Hair Restoration Physician. This can also make a splendid gift for a loved one. During the consultation, the physician will carefully examine the scalp to assess its overall health, and can actually measure the number of hairs per square inch (this is known as Hair Mass Index, or HMI). Your physician will also inquire about your family's history with hair loss, your diet, and any other factors that may impact a patient's hair growth before recommending a course of treatment. This first step is probably the biggest hurdle one must overcome before seeking treatment, so why not help them overcome it by gifting it to them?
($250)
Scalp Treatments
Scalp treatments are to the scalp like facials for the face! Both relaxing and therapeutic, this ninety-minute scalp and hair pampering session includes a variety of soothing treatments done in our private med-spa room. We start with a deep manual scalp massage and then you will enjoy a specialized steam treatment for the scalp followed by a patented massage device that gently increases blood flow throughout your scalp. Additionally, your pampering session with include an all-natural mask treatment that contains specialized plant cells and minerals as well as essential oils for optimum scalp health and hair beauty. Professional blow dry and hair styling will be done. You can treat your special someone to one scalp treatment or a series of treatments.
(price range $250-$800)
PRP Treatments for Hair ($2500-$3000)
For men or women with thinning hair, Platelet-Rich Plasma (PRP) treatments have been shown to be effective in activating dormant follicles and stimulating hair growth. The technique uses your body's own growth factors which are concentrated from your own blood and applied to the scalp using a virtually painless, minimally-invasive technique. What's best is that PRP treatments are not time-intensive, and can usually be administered in about one and a half hours at our office.
(price range $2500-$3000)
Laser Therapy for Hair Regrowth/ Laser Cap Therapy
Another option to help regrow hair is low-level laser therapy. The wavelength and specific power of low-level lasers have been shown to create a healthy, favorable environment for the follicles in order to stimulate hair growth and maintain hair thickness. The best part of all is that it's discreet. For example, in addition to in-office treatments, Bauman Medical also offers a portable, battery-powered device that can be worn under a baseball cap, or just about any kind of hat, without anyone even realizing that you are undergoing treatment.
(price range $800-$3000) 
FUE Hair Restoration
FUE stands for "Follicular Unit Extraction," which is the modern gold standard for hair transplantation. This process harvests healthy hair follicles one at a time from a donor area in the back of the head using a minimally-invasive technique. The follicles are then transplanted into the areas of need. FUE is a virtually painless procedure, and the results are exceptionally natural. The use of the ARTAS robotic assisted FUE system allows for an incredible level of accuracy, precision and efficiency of graft harvesting. FUE hair transplants are done in-office, and the procedure usually takes several hours through out the day, depending on how many follicles are being transplanted. Because the procedure is minimally invasive (requiring no stitches or staples and leaves no telltale linear scar) it requires very little downtime. There is no better way to restore a receding hairline, temple or to fill in that shiny bald spot on the top of head.
(price range $5000 and up)
Eyelashes/Eyebrows
or Beard/Mustache 
Combating baldness is not the only reason why someone on your list might appreciate hair transplants. These same follicle-grafting techniques can be also used to augment eyelashes and eyebrows, as well as beards and mustaches. Follicular unit hair transplants can also be used to repopulate sparse or barren areas caused by scars or burns. I've found that many patients simply don't know what kind of options are available to them, and most I've treated admit that they would have come to me sooner if they had!
(price range $5000 and up)
CNC 3D Hair Prosthesis
Unfortunately, not all hair loss can be reversed or treated with transplantation. However, the technology behind hair replacement has continued to increase exponentially over the past two decades, and it's quite remarkable what options are available today.
One example is the "CNC Hair and Scalp Prosthesis" that we use to help patients with extremely advanced hair loss. The CNC hair prosthesis is a medical-grade prosthetic device that is custom-made in Italy using unprocessed human hair placed into a a 3D laser-printed cap that precisely matches the exact contours of the patient's scalp for a superb fit. The hair fibers are placed into the cap one at a time in an orientation that mimics Mother Nature's work. Unlike a wig, the CNC hair Prosthesis is indistinguishable from the patient's own hair, and is affixed to the scalp to allow for normal activity. You can swim, skydive, or ride in a convertible car with the top down without worrying if your hair will "shift" on your head or if it will fall off. Because it's constructed of the highest quality of human unprocessed hair, it can be cut, colored and styled to your liking.
(price range $5000 and up)
Nobody wants to suffer hair loss and many people don't have to. Today, there are treatments available for virtually every kind of hair loss. I have seen firsthand how hair restoration can improve a patient's confidence and overall quality of life. For me, that's one of the greatest gifts you can give someone.
Happy holidays!
Bauman Medical Group
Hair Transplant and Hair Loss Treatment Center
1450 S Dixie Hwy
Boca Raton FL 33432-7359
Toll Free: 1-877-BAUMAN-9
Tel: 561-394-0024
Fax: 561-394-4522
Email: doctorb@baumanmedical.com