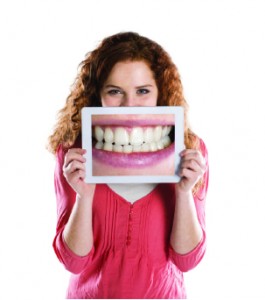 Patients are aware that it is recommended to have dental check-ups typically twice a year. Often these appointments are delayed or skipped by individuals who rarely, if ever, get cavities. The rationale makes sense… If I never seem to get cavities, then postponing really should not make a difference. It is important to realize that checking for cavities comprises only half the dental check-up appointment. An evaluation of the gums and jaw bone, along with an appropriate level of cleaning and polishing the teeth, are also a key part of this visit.
What is so important?
An important part to maintaining our teeth and smile is the care for our gums and jaw bone. If the gums and jaw bone start to shrink away, ultimately an increase in tooth loss or cavities may occur (which typically means the need for more dental treatment). In other words, the foundation of the teeth is just as important as the teeth themselves.
Recent research has revealed that 1 in 2 adults over the age of 30 have some form of periodontal (gum) disease. That means every other person reading this article likely has gum disease.
There are a number of forms of periodontal disease, such as gingivitis (inflammation of the gums themselves) and periodontitis (destructive loss of the supporting jaw bone). Typically, this disease is not painful until it reaches advanced stages and can easily be overlooked. An example of gingivitis is bleeding gums. What I find amazing is the response patients often give when asked, "Do your gums bleed". The frequent answer is, "yes, they always bleed when I brush" or "they have bled for years". Can you imagine being asked that question regarding another part of your body (let's say your belly button). I am fairly certain that bleeding from anyone's belly button would trigger the need to see a doctor immediately. The mouth is no different. Bleeding from the gums also requires evaluation and treatment.
In addition, a link has been discovered between periodontal disease and other important diseases such as Diabetes, Cardiovascular Disease (heart attacks and stroke), along with a variety of others. Managing the health of the gums and jaw bone may help protect the other systems in the body from the bacteria and inflammation that can initiate in our mouths.
What can be done?
At your check-up and hygiene appointments, your dentist will evaluate the health of your gums and jaw bone. This will consist of measuring the gum spaces around your teeth and reviewing current dental x-rays. The exam is considered by most to be painless.
Early periodontal disease, such as gingivitis (gum inflammation) can often be treated and reversed with scaling and root planing (many patients call this "deep cleaning"). In some cases, the disease progresses to a point of periodontitis (the irreversible loss of gum and bone). This type of disease requires more advanced care and is often referred to a specialist. The goal of treatment is to slow the disease and help preserve the teeth. Periodontal procedures are not necessarily uncomfortable. A great example is "LANAP' or laser periodontal therapy. In this case, the disease is treated without the use of a scalpel or sutures.
In summary, checking for cavities is only half the battle when visiting with your dentist. Regular check-ups also include the evaluation of your gums and jaw bone. Since the incidence of gum disease is so high, it is important to have your gums and jaw bone evaluated on a regular basis in order to help keep your teeth and maintain your smile.
Lee R. Cohen, D.D.S., M.S., M.S., is a Dual Board Certified Periodontal and Dental Implant Surgeon. He is a graduate of Emory University and New York University College of Dentistry.
Dr. Cohen completed his surgical training at the University of Florida / Shands Hospital in Gainesville, Florida. He served as Chief Resident and currently holds a staff appointment as a Clinical Associate Professor in the Department of Periodontics and Dental Implantology. Dr. Cohen lectures, teaches and performs clinical research on topics related to his surgical specialty.
The focus of his interests are conservative approaches to treating gum, bone and tooth loss. He utilizes advanced techniques including the use of the Periolase Dental Laser (LANAP procedure) to help save teeth and treat periodontal disease without the use of traditional surgical procedures. Additionally, he uses in-office, state of the art 3D CT imaging to develop the least invasive dental implant and bone regeneration treatment options. Dr. Cohen and his facility are state certified to perform both IV and Oral Sedation procedures.
Dr. Cohen formerly served on the Board of Trustees for the American Academy of Periodontology and the Florida Dental Association. He is past president of the Florida Association of Periodontists and the Atlantic Coast District Dental Association. In addition, Dr. Cohen has been awarded Fellowship in the American College of Dentists, International College of Dentists and the Pierre Fauchard Academy.
Lee R. Cohen, D.D.S., M.S., M.S.
4520 Donald Ross Road, Suite 110
Palm Beach Gardens, FL 33418
Phone: 561-691-0020
www.pbcperio.com