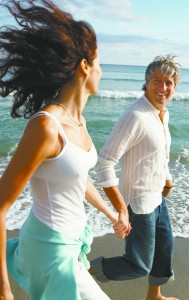 It is comforting to know that we have medical insurance when we get sick. It does not work well unless you get sick.
We are fortunate that medical insurance today covers many screening procedures that allow earlier detection and a better chance to control a disease or even achieve a cure. Oddly, not many take advantage of these due to various reasons ranging from the inconvenience, high deductibles or lack of concern. Whether we go through the screening exams, we are all concerned with preserving our health. Despite the deluge of sometimes conflicting information about healthy living, very few try to find out how to preserve and extend their health and assume falsely their medical insurance will somehow recover their health. Health insurance is not designed for this purpose. It's designed for what we refer to as "sick care." When you get sick, it kicks in and you get the medical care you need. However, it will not erase the disease that we have allowed to develop through years of poor choices in our diet, inactivity, harmful addictions and lack of proper upkeep. The adage of "an ounce of prevention is worth a pound of cure" is still true when it comes to your health.
We at Wellness and Hormone Centers of America believe that medical insurance should be left for "sick care" and that we should pursue good health from any other source available even if that means going outside of what our medical insurance can offer. Those who prefer to accumulate wealth without health can experience the joys of "sick care." Frankly, most who go through it would rather have skipped it.
Avoiding processed foods and including lots of fresh fruits and vegetables without pesticides in your diet is a step in the right direction. Getting on a regular exercise program will preserve your function so you can still take care of yourself as you get older and may help you lose weight. There is no shame in starting small and build up, as long as you do it. No one wants to be a burden on their family and loved ones but many simply don't plan for anything else. At that point it is too late. Quitting harmful addictions such as tobacco use in any form, excess alcohol intake or addiction to processed foods are steps that you can take on your own that will add much to preserve your health and don't cost anything. Getting your hormones tested and balanced with bio-identical ones will make you feel younger so you can do more in old age but this is frequently not covered by "sick care" insurance because you're not sick, at least not yet. Every measureable parameter of human function, including hormones declines as we age. Taking proactive steps to preserve your health will balance your life at the expense of your checkbook. Wealth without health is useless. Don't wait until you're dying to focus on health. Keep your health insurance to get care when you're sick but get your health by living well and by keeping your hormones balanced to promote good health.
We at Wellness and Hormone Centers of America can help you get started. Your health depends on it.
George E. Sadowski, MD, presently the Medical Director of the Wellness & Hormone Centers of America, is a physician with a thriving surgical practice with the Surgical Associates of North Florida in St. Augustine. He received his undergraduate education from the University of Rochester and his medical degree from the prestigious St. George University. Dr. Sadowski has shared his expertise with various hospitals around the country including Greater Baltimore Medical Center and Flagler Hospital. In addition to a fellowship at the Greater Baltimore Medical Center, he has received certifications from both the ACLS and the American Heart Association for his outstanding work in many areas of the medical profession.
Wellness and Hormone Centers of America
5030 Champion Blvd. Suites C-2/C-3
Boca Raton, FL 33496
855.336.1296 | wellnesshca.com