Shockwave Therapy, also known as
ESWT and EPAT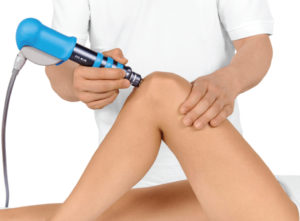 Shockwave therapy is a relatively new treatment option in orthopedic and rehabilitation medicine. The first medical treatment developed from this research was lithotripsy. This allowed focused shockwaves to essentially dissolve kidney stones without surgical intervention. Today, over 98% of all kidney stones are treated with this technology. The use of shockwaves to treat tendon related pain began in the early 1990s.
Shockwaves are used to treat many orthopedic conditions, including plantar fasciitis (heel spurs), patellar tendinitis (jumpers knee), lateral epicondylitis (tennis elbow), medial epicondylitis (golfer's elbow) and shoulder tendinitis. Multiple studies have been conducted to assess the efficacy of shockwave therapy.
Shockwave therapy is a multidisciplinary device used in orthopedics, physiotherapy, and sports medicine. Its main assets are fast pain relief and mobility restoration. Together with being a non-surgical therapy with no need for painkillers makes it an ideal therapy to speed up recovery and cure various conditions causing acute or chronic pain.
Shockwave is an acoustic wave which carries high energy to painful spots and myoskeletal tissues with sub-acute, sub-chronic and chronic conditions. The energy promotes regeneration and reparative processes of the bones, tendons, and other soft tissues.
Medical Effects
Acoustic waves with high energy peak used in Shockwave therapy interact with tissue causing overall medical effects of accelerated tissue repair and cell growth, analgesia and mobility restoration. All the processes mentioned in this section are typically employed simultaneously and are used to treat chronic, sub-acute and acute conditions. The medical effects are:
• New Blood Vessel Formation
• Reversal of Chronic Inflammation
• Stimulation of Collagen Production
• Dissolution of Calcified Fibroblasts
• Dispersion of Pain Mediator "Substance P"
• Release of Trigger Points
Conditions and Indications for Shockwave Therapy
• Tennis Elbow
• Calcific tendonitis of the shoulder
• Frozen shoulder
• Golfer's elbow
• Trigger point treatment
• Greater trochanteric pain syndrome
• Plantar fasciitis, heel pain, heel spur
• Achilles tendonitis
Will Shockwave therapy help me?
Most patients with chronic pain problems have been through various unsuccessful types of treatments. Up to 80% of the same patients worldwide report that Shockwave therapy has helped them eliminate their problem.
Does the treatment hurt?
There may be a slight feeling of discomfort during the treatment, depending on the level of pain the patient is already experiencing in the area. However, since the treatment lasts only about five minutes, most patients are able to tolerate this discomfort. Additionally, the intensity of the treatment can be adjusted throughout the session.
How many treatments will I need?
The number of treatments varies depending on the condition and tissue response. The effect of the treatment is cumulative, so you will typically need more than one. Very often though, you will experience relief right after the first treatment. The average number of treatments is between 3-6 times over a 2-3 week period.
Will I feel any pain after the treatment?
Most patients will experience an immediate pain relief following the treatment. However, within 2-4 hours after the treatment, they may experience some soreness in the treated area. This soreness has been reported as tolerable and not limiting.
Why consider Shockwave therapy?
EPAT has a proven success rate that is equal to or greater than that of traditional treatment methods (including surgery) and without the risks, complications and lengthy recovery time. EPAT is performed in your physician's office/clinic, does not require anesthesia, requires a minimal amount of time, patients can bear weight (i.e. walk) immediately, and return to work/normal activities within 24-48 hours, resuming strenuous activities after 4 weeks.
Shock Therapy Benefits
1. Non-surgical treatment
2. Affordable
3. Non-invasive, painless treatment
4. Speeds up healing process
5. Minimal side effects
Treatable Conditions
1. Plantar fasciitis, heel pain, heel spur
2. Tennis elbow
3. Jumpers knee
4. Achilles tendonitis
5. Shin splits
6. Frozen shoulder
American Med Care Center
561-967-6655
3200 Forest Hill BLVD
West Palm Beach, FL 33406
treatingyourbackpain.com