One solution I can offer patients with low-back pain is spinal decompression.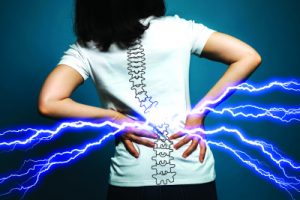 When buying a car, you look for features such as comfort and looks. When buying a computer, you look for memory and speed. With decompression, you should do similar research to find machines that offer superior results, like The DRX9000.
Surprisingly, chiropractors did not invent decompression. It was developed by Allan Dyer, MD, a former Minister of Health from Ontario, Canada, who was already recognized as a pioneer in the development of the external cardiac defibrillator. He invented a treatment table for low-back disc problems that proved to be a revolutionary improvement in the treatment of low-back pain.
This new table was not available in the U.S. until the mid-1990s, when it gained FDA clearance. Dyer's work and research were later updated by Harvard professor and neurosurgeon C. Norman Shealy, MD, the father of the TENS unit.
Demonstrated efficacy
Decompression works, yet many insurance companies still will not reimburse because they deem decompression to be an investigational therapy, which it is not.
Dennis McClure, MD, a neurosurgeon who conducted a study that tested over 500 surgical candidates, found spinal decompression had a success rate between 86 and 92 percent a year post-treatment.
There have been numerous other studies done on spinal decompression. One of the first and largest was based on the data compiled by Gose, Naguszewski, and Naguszewski, and published in 1998 in Neurological Research. In this study, data was collected from 22 medical centers on patients who received vertebral decompression therapy for low-back pain, and examined a total of 778 cases.
Decompression was successful in 71 percent of the 778 cases, "when success was defined as a reduction in pain to 0 or 1, on a 0 to 5 scale."
Shealy reported the following in the American Journal of Pain Management in April 1997, following a study comparing 14 patients who underwent traditional mechanical traction with 25 patients given spinal decompression: "The decompression system gave 'good' to 'excellent' relief in 86 percent of patients with ruptured intervertebral discs and 75 percent of those with facet arthroses." Furthermore, the researchers found that the computerized decompression table produced "consistent, reproducible, and measurable non-surgical decompression, demonstrated by radiology."
Avoiding surgery
"Having an operation to fix a back problem is costly both financially and in recovery time. But the jury is still out as to whether some of these procedures are worth it."
Michael Haak, MD, a spine specialist and ortho-pedic surgeon at Northwestern University's Feinberg School of Medicine, says, "You need to encourage [doctors and patients] to be aware of all the alternatives."
Do your homework on spinal decompression, and then make an educated decision.
WHAT OUR PATIENTS HAVE TO SAY ABOUT
DRX TREATMENTS
"Five years ago, I lifted a 40 lb. box. It was then that I felt a sharp pain in the lumbar area. Since then I've lived with constant low back pain. An MRI showed a ruptured lumbar disc. The only thing that helped was an epidural block, actually a series of three. The relief was short lived, about 2-3 weeks. When I saw a special on T.V. about the DRX 9000 machine and how the decompression therapy works, I requested more information to be mailed to me. All the information made sense. I will admit I was somewhat apprehensive and thought, is this too good to be true? The fact of the matter is that I'm totally pain free for about
3 weeks! This is a tremendous relief. I am so grateful for this noninvasive therapy and particularly my treating doctors. Their expertise was a large factor in how well I responded to this remarkable break through for patients with back pain." -B. Carol T.
"When I was walked into American Med-Care Center I had low back pain. I went to many doctors in the past and none of them helped. I went to pain clinics and it helped some. I had some numbness in my legs and feet. I had stiffness and some arthritis setting into my low back area. I saw the DRX 9000 on T.V. and decided to try it. The American Med-Care staff helped me every step of the way. Now I can bend and I can run like never before. The treatment helped me so I wouldn't be in pain anymore. I would recommend the DRX9000 to anyone that wants to try it out. I would like to thank the staff and Dr. Brian Reimer at American Med-Care Center for giving me my health back." -Karen B.
"After the treatments on the DRX9000 my back does feel stronger and more flexible. During the treatment the pain traveled away from my lower back. I want to thank the staff at American
Med-Care Center for the patience, care, and kindness during the procedure." -Tuulikki H.
"Thank you to Dr. Reimer and his excellent staff! I have been a sufferer of lower back pain for approximately 12 years. I have tried physical therapy, acupuncture, epidural and nerve blocks. For the first time since my treatment with the DRX9000, I am pain and medication free. The entire staff, from the reception area to the doctors under Dr. Reimer, has been courteous, helpful and professional. Thank you for everything you achieved for me. -Steve S.
"I have had pain in my lower back for many years with little relief from cortisone and epidurals. However, the relief I have gotten from the DRX9000 has been outstanding! I have been able to work on my feet with hardly any problem at all. I have been able to walk with a little zip in my step. I'm very happy I took the time to try the DRX9000. Also, the care I have been given by the staff here at American Med-Care has been outstanding and I could not of asked for anything better." – Andrew M.
561-967-6655
3200 Forest Hill BLVD
West Palm Beach, FL 33406
treatingyourbackpain.com