By David A. Goldman MD –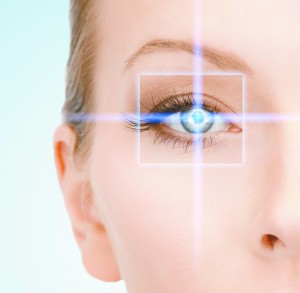 With every year, advances are made in ophthalmic surgery. While some are relatively insignificant, others can change the entire way we think about surgery. With cataract surgery, the latest development is the use of femtosecond laser to assist with the surgery. While this is a very exciting development for the field, the exact details are not always shared with the patient.
To begin, what exactly is laser cataract surgery? Many physicians define this in different ways. Although patients today think that cataract surgery has always been performed with laser – in fact this is not the case. The majority of cataract surgery to date has been performed with ultrasound (similar to laser except sound waves are used instead of light waves) while the physician manually guides the ultrasound probe. Femtosecond laser cataract surgery allows the initial incisions and lens breakup to be performed by an image-guided computer/laser system. That said, the ultrasound probe is still used to manually remove the now laser fragmented lens. Having performed traditional and laser cataract surgery as well as having reviewed the literature extensively on the subject, I feel compelled to educate the public about it. First, there are several important questions that should be answered.
Is laser cataract surgery any safer? Not at all. If femtosecond laser cataract surgery did indeed provide safer outcomes then Medicare/private insurers would pay for it. In fact, if your ophthalmologist does recommend laser cataract surgery as being safer, I would recommend seeking another surgeon.
Does it reduce the total surgery time? No – the time to complete the entire surgery is longer because there are now two steps to the procedure.
Is it more comfortable? No – the two methods are virtually the same. The exception being that during the laser aspect of the procedure the patient may experience a little pressure.
Does this mean there are no advantages to laser cataract surgery? Again the answer is no. The laser does allow incisions not only to be performed in the cornea but also the capsule that holds the cataract/new intraocular lens. These incisions are performed in an entirely automated format that allows for outstanding reproducibility. It has also been commented on by many that these laser incisions allow for better accuracy when choosing the proper lens power. Furthermore, in certain cases, partial laser incisions known as arcuate incisions can be performed to neutralize small amounts of astigmatism.
So should you elect for laser cataract surgery? The decision is entirely up to you, but you should not feel pressure that if you undergo traditional cataract surgery that there is a higher probability of a complication. In the hands of a skilled surgeon, cataract surgery is an overwhelmingly successful procedure. The addition of laser to the procedure is more icing on the cake and is not required but some may prefer.
Dr. Goldman practices at 3401 PGA Blvd Suite #440 in Palm Beach Gardens, Florida. He has been ranked a Best Doctor and Top Ophthalmologist, as well as being recognized as one of the top 250 US surgeons by Premier Surgeon. (561) 630-7120