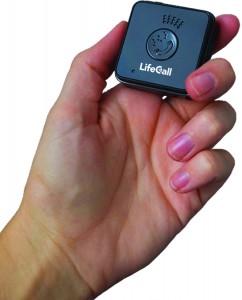 Are you looking for the best mobile Medical Alert system – one that allows you to summon emergency help 24 hours a day, 365 days a year by simply pressing a help button no matter where you are? Unlike traditional Medical Alert systems that only work in or around the home, MobileAlert devices enable you to participate in activities that you enjoy outside of your home, such as gardening, taking walks, shopping and traveling, all with the peace of mind of having a medical alert system with you at all times. However, as with any new or emerging technology, there are important issues to consider – and when your life, health or safety are at risk, you can not afford to make a mistake and choose a device that isn't the best for you.
LifeCall MobileAlert is the best medical alert system for you.
As a mobile medical alert user, you need assurance that the technology on which your health and safety depend will accurately confirm your location and get you the emergency help you need – all with the single press of a button. Once voice communication is established, you want trained, certified, emergency care specialists who will stay in contact with you, immediately and accurately assess the situation and (as necessary) dispatch emergency personnel while providing vital medical history to the paramedics en route.
Accurate and Reliable Location Detection
For active clients who desire one-button access to emergency help wherever you are, LifeCall MobileAlert provides superior 24/7 service with the added reliability of U-TDOA (Uplink Time Difference of Arrival) location technology, uniquely developed and suited for E911 mission-critical safety and security devices to precisely locate devices. U-TDOA is far superior to GPS tracking and has the ability to locate you both in and out of the home and provides maximum protection in an emergency no matter where you are.
Knowledgeable and Dependable Response Specialists
MobileAlert's two-way voice system features a powerful built-in speaker and microphone. At the press of a button, the user is connected with a care specialist who can dispatch EMS and/or send loved ones to the user, depending on what is needed.
Peace of Mind Wherever Life Takes You
MobileAlert gives LifeCall customers the help and safety you need with the independence you desire. Small, lightweight and shower-safe, LifeCall's Mobile Alert system offers maximum protection in an emergency no matter where you are, whether inside, outside, or away from your home.
The MobileAlert system works anywhere within T-Mobile's coverage area. If T-Mobile is not available, the device automatically calls 911 on any cell carrier that is available.
MobileAlert features include:
• Simple to use – press one button to talk 24/7 to certified emergency care specialists
• Small & lightweight – more than 50% smaller and lighter than other devices available makes it convenient and comfortable to wear
• Shower safe – always keep it close at hand
• Long battery life – rechargeable battery lasts up to two months on a single charge
• Go anywhere – you are always connected to help anywhere within the US, indoors or out, at home or away
• Lifetime Price Guarantee – with free shipping, no activation fee, and no long-term contract
• U-TDOA – far superior to GPS location detection technology
LifeCall security representatives are happy to answer any medical alert questions you have. To learn more about the MobileAlert system, visit www.lifecall.com or contact LifeCall at 1-866-220-1212 today. It could be the most important call you'll ever make.