We all want to look and feel our best, but savvy patients today want to avoid cosmetic surgery since there are alternative noninvasive procedures that are incredibly effective. These procedures offer in-office treatment and much less expensive. MD Beauty Labs offers groundbreaking technology for their patients that provides surgical-like results with no incisional scars, less downtime, and long-lasting results.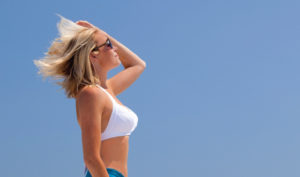 In a recent study, led by Dr. Dayan, a Plastic and Reconstructive Surgeon at Massachusetts General Hospital, the effects of combined non-invasive aesthetic procedures were analyzed on various patient demographics to weigh the effectiveness on skin tightening.1
"The demand for minimally invasive solutions to avoid traditional operative treatment continues to increase. RF (radiofrequency) technology has emerged as an effective method to safely tighten skin and reduce underlying adipose tissue. As our armamentarium expands, we have the opportunity to treat large portions of the population who were previously considered premature or borderline candidates for excisional operations. In our experience, combination RF technology (RF microneedling and bipolar RF) advances and broadens our ability to achieve tissue retraction that does not reliably occur with other energy-based devices and liposuction alone." 1
INNMODE, a well-known medical device company that's the premier expert of combined RF technology, has been featured on news outlets and in print like The Doctors, Vogue, NBC, and EXTRA. MD Beauty Labs in West Palm offers only the most reliable and innovative procedures for their patients. That's why MD Beauty Labs has INNMODE devices available in their two office-settings.
What Are These Advanced Procedures?
BODYTITE (treats the body)
BodyTite is a minimally-invasive device for body contouring delivering results previously only achieved through excisional procedures. BodyTite is powered by directional RF, resulting in three-dimensional tissue remodeling through fat coagulation and volumetric heating. The coagulation of fat using RF-induced heat results in radio-frequency assisted lipolysis (RFAL).
Multiple areas can be treated in one visit such as stomach, arms, chest, knees and inner and outer thighs.2
FACETITE (face and neck)
In just one treatment, FaceTite can provide significant improvements to the contour of the face and small body areas. Using RFAL technology, FaceTite is the next best thing to a traditional facelift, without the associated large scars and downtime. Any areas on the face and neck with saggy skin can be treated. This includes the double chin, jowls and other areas with deep lines and loose skin.2
ACCUTITE (face, neck and smaller areas of the body)
AccuTite makes focal RF treatment without excisional surgery. AccuTite is based on RFAL technology delivering precision heating to remodel adipose tissue. It treats the brows, periorbital region, nasolabial fold, lower face, and neck. On the body, patients can receive AccuTite for the axilla, upper arms, abdomen etching, inner thighs, knees, and areas for women's health and wellness.2
MORPHEUS8 (body contouring, face, and neck)
Morpheus8 is a novel technology that lets the operator discover new depths. It is the first and only full-body fractional technology adjusted for subdermal tissue remodeling, dermal treatment, and epidermal resurfacing. Morpheus8 is the deepest fractional technology with penetration up to 4000 microns.2
RFAL Technology Represents the Future of Body and Face Contouring.
No surgery
No scaring
No downtime
Skin tightening and contouring
The most innovate, leading technology
Offer minimally invasive procedures that deliver surgical results.2
MD Beauty Labs & Wellness Center
Come to MD Beauty Labs to find out why clients from across the Palm Beach area choose us to help them reach their aesthetic goals. We proudly serve residents throughout Palm Beach County, including West Palm Beach, Boca Raton, Wellington, Jupiter, Royal Palm Beach, Lake Worth, and Delray. Our team is dedicated to finding and meeting your every beauty need
Daniela Dadurian, M.D., Medical Director
Daniela Dadurian, M.D., specializes in anti-aging medicine, laser treatments, and cosmetic medicine. She's traveled the world to research the safest and latest technologies on the market to provide you with the best possible treatments and care.
Dr. Dadurian received her medical degree from the University of Miami School of Medicine and is board-certified in anti-aging and regenerative medicine, as well as laser surgery. Her expertise in anti-aging techniques and her passion for excellence are reflected in the attentive personal care she gives each patient.
MD Beauty Labs offers medical, spa, and body treatments within a luxurious contemporary loft environment. We are committed to providing a revitalizing experience. Dr. Dadurian, alongside her team of nurses, medical estheticians, massage therapists, permanent makeup specialist, and medical spa concierge, is here for you.
Do you want to have tighter, brighter skin, and turn back the clock without surgery? Contact the experts at MD Beauty Labs today!
To schedule your appointment, please call West Palm Beach at (561) 513-5817, Palm Beach at (561) 288-6678, or visit MDbeautyLabs.com.
320 S. Quadrille Blvd., WPB
West Palm Beach, Fl
561-655-6325
340 Royal Poinciana Way, Suite 325D
Palm Beach, Fl
561-797-9090